Premier Li Keqiang on May 15 met with Kenyan President Uhuru Kenyatta, who was in Beijing for the Belt and Road Forum for International Cooperation.
Premier Li said Kenya is an important partner of China in Africa, and a model nation for China-Africa capacity cooperation. China-Kenya relations have been elevated to a comprehensive strategic partnership following the fruitful talks between President Xi Jinping and Kenyatta, the Premier said.
"China is willing to take this opportunity to better align development strategies with Kenya, expand pragmatic cooperation in various fields, strengthen people-to-people exchanges, in order to inject new impetus into bilateral ties," said Premier Li.
As the Mombasa-Nairobi railway, co-constructed by China and Kenya, is about to be completed, China will support Kenya in operating the line to make it a model project in Eastern Africa and even the entire continent, said Premier Li. The rail line will further drive China-Africa cooperation on capacity and infrastructure, promote sustainable economic and social development in the region, and improve local people's lives, the Premier added.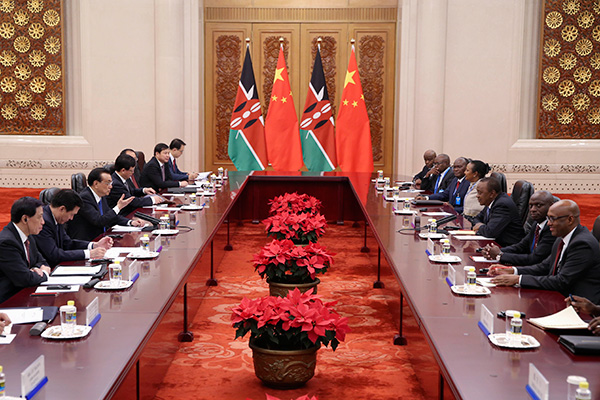 Kenyatta said that with rapid development of bilateral ties, cooperation between the two nations has become increasingly closer, and reached a new high. Kenya is willing to maintain high-level exchanges with China, and high-level bilateral relations, to set a new example of Africa-China cooperation of mutual benefit and common prosperity, said Kenyatta.
State Councilor Yang Jing also attended the meeting.