Premier Li Keqiang vowed further cooperation with Cambodia during a meeting with visiting Prime Minister Hun Sen in Beijing on May 16.
Hun Sen was in Beijing for an official visit to China and for the Belt and Road Forum for International Cooperation held on May 14 and 15.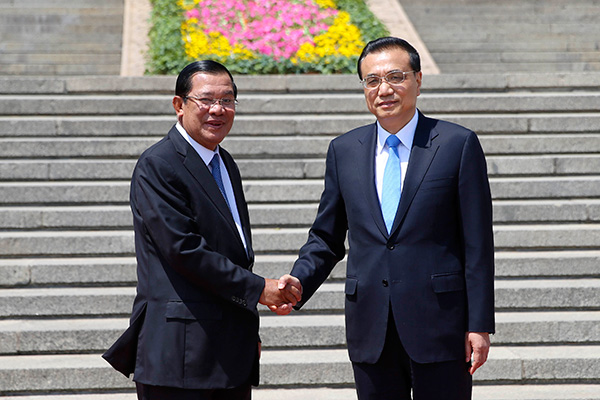 Premier Li said China and Cambodia have a long and enduring friendship, which was established through the joint efforts of the two countries' older generation of leaders, and has been further cemented under the new international circumstances after President Xi Jinping's official visit last year.
He added that China is willing to maintain high-level exchanges and strategic communications, expand pragmatic cooperation and increase people-to-people exchanges with Cambodia, and enhance coordination with the country on international and regional affairs, in order to benefit the people of the region and the world.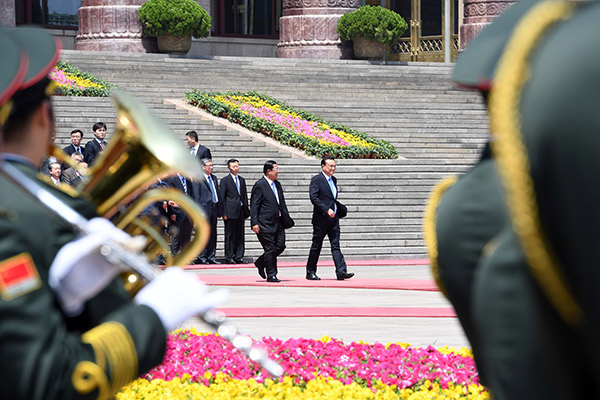 The Chinese government is endeavoring to upgrade the China-Cambodia cooperation in an all-around way, and hopes to accelerate coordination between their development strategies to promote bilateral trade, said the Premier.
He said China hopes to work with Cambodia to promote key cooperative projects in the fields of production capacity, investment and agriculture, in order to boost Cambodian economic and social development and improve people's lives there.
The two sides can also enhance defense and law enforcement cooperation, and increase exchanges in education, tourism, preservation of cultural relics, and medical care, Premier Li said.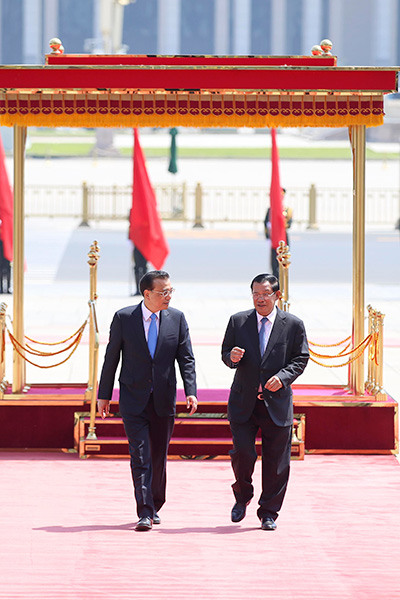 Next year marks the 15th anniversary of the establishment of China-ASEAN strategic partnership, when Cambodia will host the second Lancang-Mekong Cooperation Leaders' Meeting.
China supports Cambodia to play an active role through regional and subregional platforms, and hopes to make joint efforts with the nation and other parties concerned to promote cooperation for common development, and to build a community of common destiny with shared stability and prosperity, Premier Li said.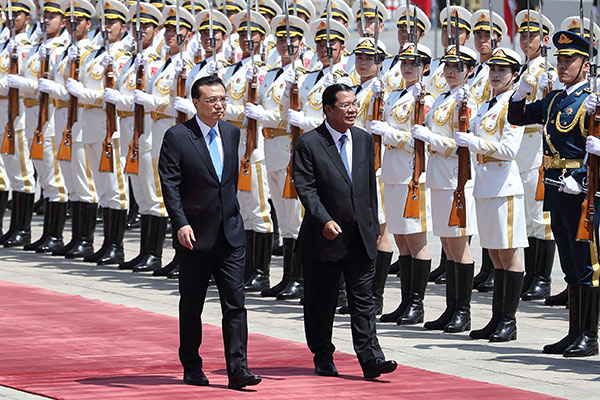 Hun Sen said Cambodia cherishes the traditional friendship with China, and hopes to implement the consensus reached by the two sides, maintain high-level exchanges, and strengthen cooperation in areas such as trade and investment, infrastructure, agriculture and water facilities, science and technology, tourism, and law enforcement security.
Cambodia is also willing to strengthen coordination with China on regional and international affairs, to lift the bilateral friendship to a higher level, he added.
Hun Sen then delivered Cambodia's congratulations on a successful Belt and Road Forum, saying it will continue to promote China-ASEAN ties and Lancang-Mekong cooperation, and maintain regional stability and development.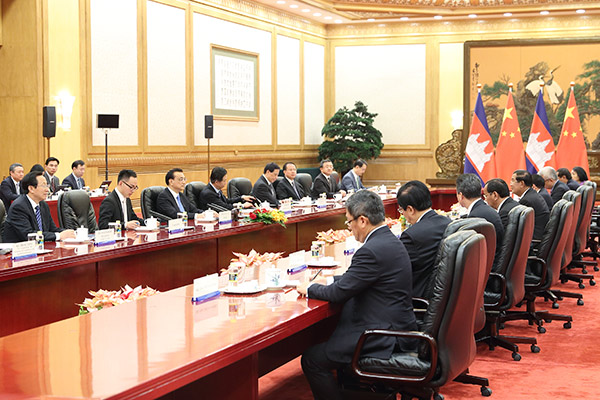 After the meeting, the two leaders witnessed the signing of a series of agreements involving coordination of development strategies, economy, technology, infrastructure and other areas.
Before the meeting, Premier Li held a welcoming ceremony for Hun Sen in front of the Great Hall of the People in Beijing.
Hun Sen laid flower baskets at the Monument to the People's Heroes on the morning of May 16.