Premier Li Keqiang hailed the cooperation prospect between China and Argentina when meeting with visiting President Mauricio Macri of Argentina on May 17.
Premier Li said the China-Argentina relationship has seen steady progress over the past 45 years. China is willing to maintain mutual respect, improve political trust and expand common interests.
As both are emerging economies, China is willing to promote a balanced bilateral trade by further opening its market to Argentina, and to push forward free, convenient global trade and investment with Argentina, the Premier said.
"Both countries can expand cooperation in various fields, including infrastructure construction, industrial capacity, energy, mining, agriculture, finance and small and medium sized enterprises (SME)," he said.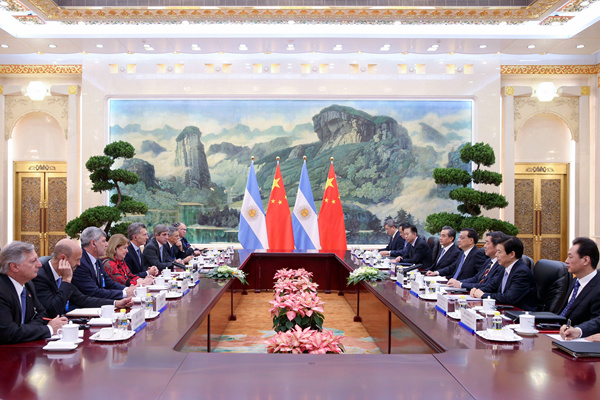 China supports Latin American economic integration, and is willing to work with Argentina and other countries to promote China-Latin America ties, so as to contribute more to regional and world peace and development, the Premier added.
Macri said developing the comprehensive strategic partnership between Argentina and China is of great importance to Argentina. The economies of the two countries are highly complementary, with great potential for mutual beneficial cooperation.
"Argentina is willing to quicken the pace of cooperation with China in sectors of infrastructure construction, agricultural products, nuclear power, finance and tourism, to promote the balanced growth of trade and realize common development," Macri said.
He also welcomed Chinese enterprises to go to Argentina for investment, and said that he is willing to facilitate the various forms of economic and trade cooperation between the Southern Common Market and China, to promote the in-depth development of relations between Latin America and China.