Premier Li Keqiang called for efforts to bring China-Germany relations to a new height, through innovative cooperation and further opening up, when he met with German Chancellor Angela Merkel on May 31 during the annual meeting between the two heads of the governments.
Premier Li said, China-Germany ties developed fast, with close high-level interaction, growing trade and investment, and expanding cultural exchange.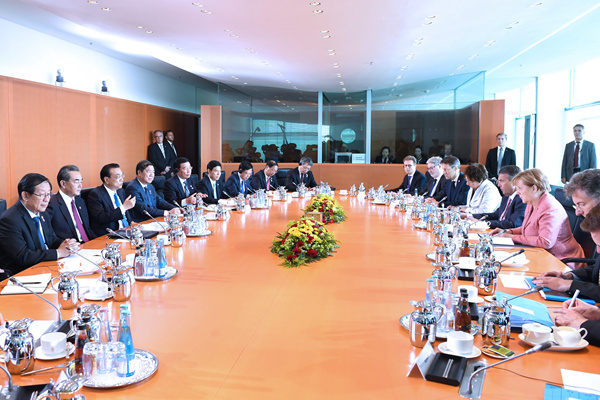 Now, uncertainties exist in international affairs as anti-globalization sentiment and protectionism grow. China and Germany should enhance cooperation and communication based on mutual respect and trust, promote free and convenient trade and investment, and protect WTO rules, he said.
He said he hopes that the two countries can tackle external uncertainties with stability in bilateral cooperation and create positive factors of stability, cooperation and development in the region and the world.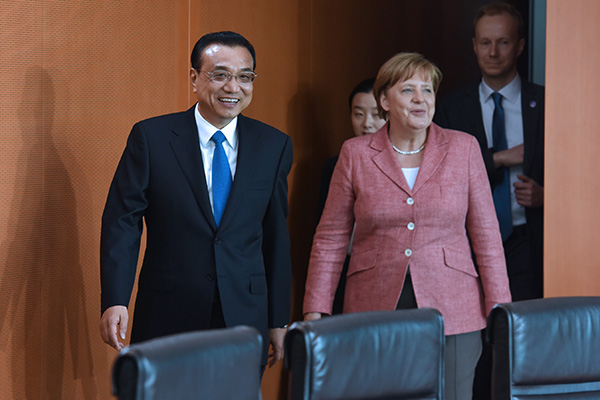 Premier Li said that China and Germany are highly economically complementary, with wide common interests and huge potential for cooperation. China is willing to integrate its "Made in China 2025" strategy with Germany's "Industry 4.0" concept, by increasing cooperation in manufacturing, energy, aerospace, innovation and small- and medium-sized enterprises (SMEs).
"I hope Germany could help gaining airworthiness approval for C919, China's first domestically built large passenger jet," he added.
The Premier suggested that both sides could enhance cooperation in education, culture and tourism to make personal exchanges more convenient. China supports Germany in hosting the G20 Summit this year, in an effort to promote global economic governance and sustainable growth.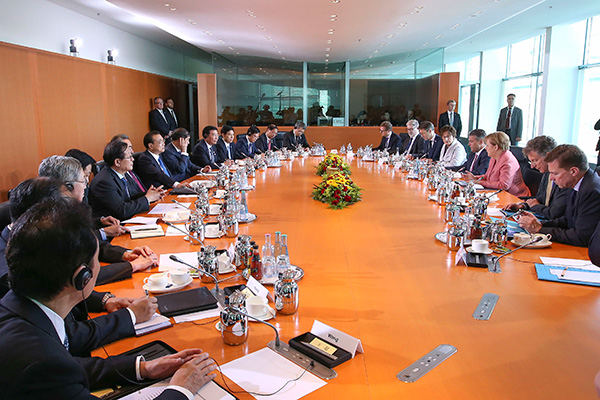 China and the EU are comprehensive strategic partners, Premier Li said, adding that China always supports European integration and is glad to see a united, prosperous and stable Europe, which is conducive to multipolarization of the world and economic globalization.
Merkel said that Germany is China's reliable partner, and the two countries are seeing strong relations. Under the current international situation, it is important for Germany and China to maintain a close high-level dialogue.
Germany is willing to further strengthen exchanges and cooperation in trade and investment, finance, new energy vehicles, medical care, humanities and other fields, based on a spirit of mutual benefit and win-win cooperation.
Germany will promote the synergy of Germany's "Industry 4.0" campaign and China's "Made in China 2025" strategy. Germany highly appreciates China's support for European integration and looks forward to the 19th EU-China leaders' meeting, Merkel added.