NO. 1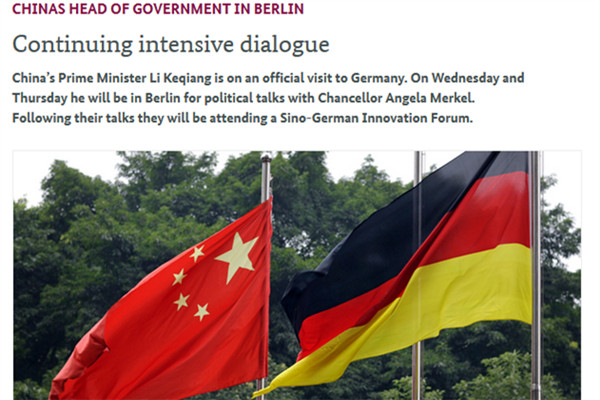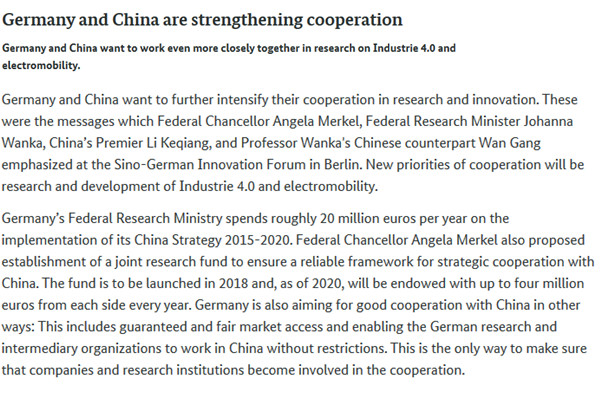 On May 31, Germany's federal government website reported Premier Li Keqiang's visit to Germany and his meeting with German Chancellor Angela Merkel.
The report briefly reviewed bilateral relations between China and Germany, emphasized the one-China policy, eyed joint efforts to promote innovation, and also highlighted frequent two-way, high-ranking diplomatic visits.
NO. 2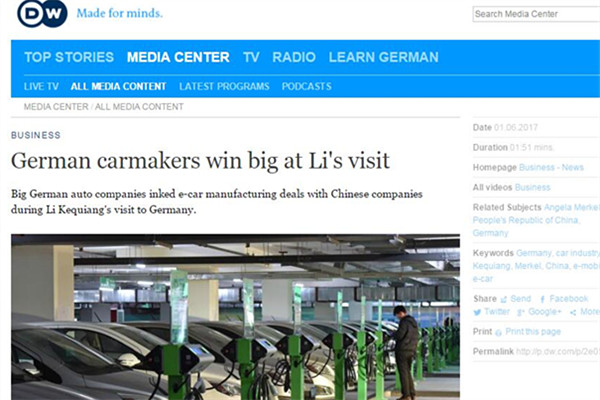 A June 1 story in Deutsche Welle appreciated the deals between China and Germany on electric-car manufacturing during Premier Li's visit, saying that German carmakers win big.
"Germany's top two automakers, Daimler and Volkswagen, both left the table with deals to build electric cars in China, the world's biggest market for electric mobility," it said.
NO. 3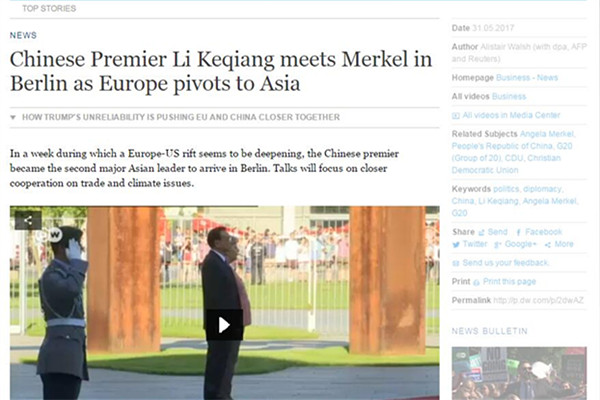 DW said "the EU has been turning to China to bolster leadership on climate change" when reporting the meeting between Premier Li and German Chancellor Angela Merkel on June 1.
It said that Germany is reaching out to Asia after "unsatisfying" G7 talks last week.
In terms of trade, DW mentioned that the EU is looking to China for support on free trade. It cited words from the head of the Asia-Pacific Committee of German Business, Hubert Lienhard, which called on China to make good on its commitments to open markets.
NO. 4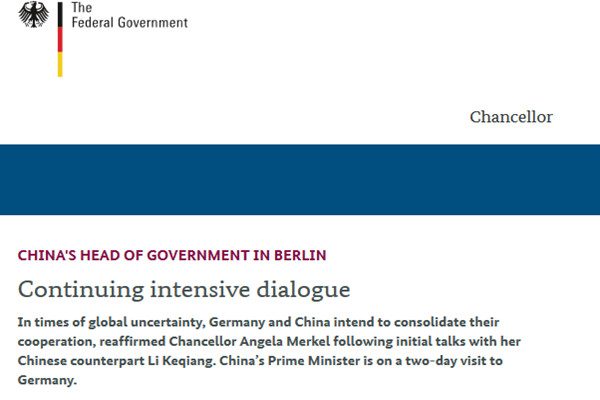 The report on Germany's federal government reviewed talks between Premier Li and Merkel during the Premier's visit to the country.
The two said China and Germany will develop the partnership in a wide range of different fields, firmly support free trade, and promote innovative cooperation in electric mobility, according to the report.
NO. 5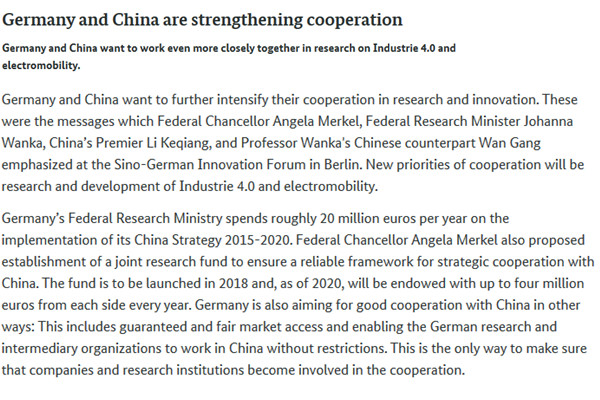 Germany's federal government website said on June 1 that Germany and China are willing to deepen cooperation in research and innovation, with new priorities given to research and the development of Industry 4.0 and electro-mobility.
Many measures will be in place to promote such cooperation, such as allocating funds for the country's China Strategy 2015-2020, setting up joint research funds for reliable cooperation and providing fair market access, it said.
NO. 6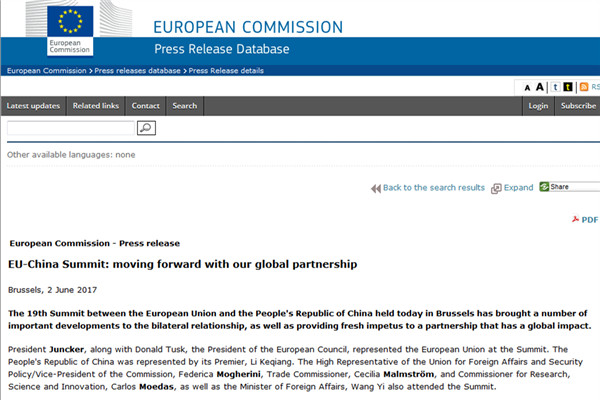 The European Commission issued a news release on June 2 saying the 19th China-EU leaders' meeting has brought a number of important results that would benefit bilateral relationship.
It listed almost all cooperative results in fields, including climate action, business, regional security, investment, energy cooperation and connectivity that had been achieved at the meeting.
NO. 7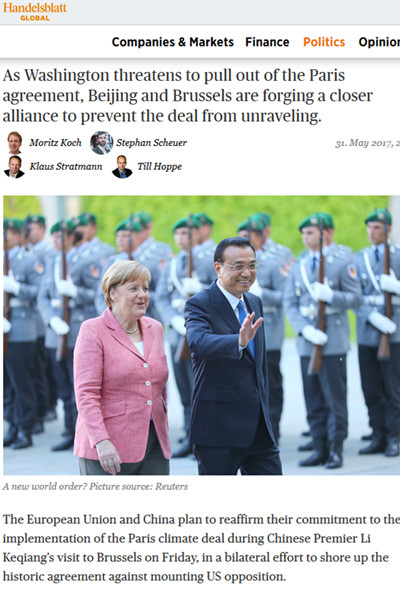 Handelsblatt Global said on May 31 that China and the EU will work closer to implement the Paris Agreement and prevent it from unraveling, as the US threatens to pull out of the deal.
Handelsblatt cited German government sources, saying the German government is confident that the Paris deal can still be effective even without US participation.
NO. 8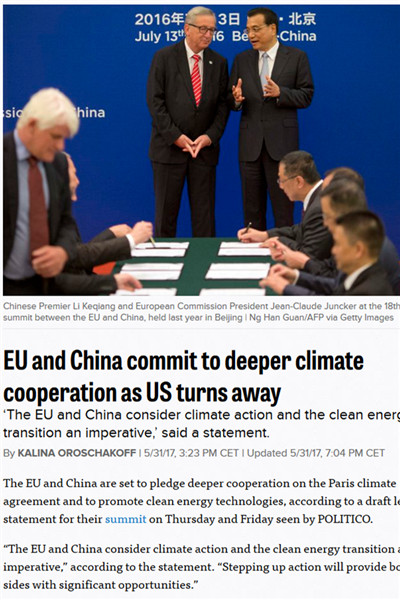 POLITICO cited a draft leaders' statement for the 19th China-EU leaders' meeting on May 31 that China and the EU were set to pledge deeper cooperation on the Paris climate agreement as US retreat.
Stepping up efforts to cut emissions and implement the deal will provide both sides with significant opportunities, according to the statement.
NO. 9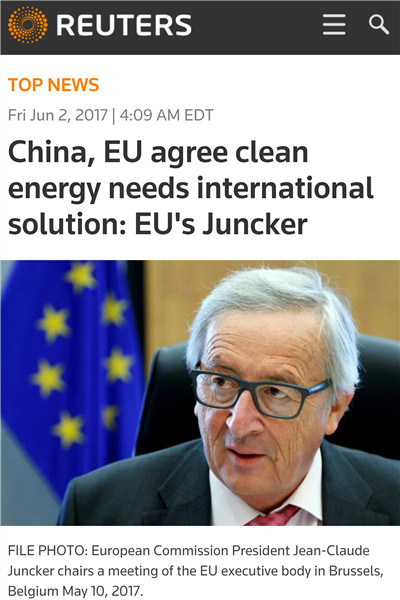 Reuters cited these words from President of the European Commission Jean-Claude Juncker, "China and the European Union agree on the need for international solutions for clean energy and climate change ".
"China and the European Union are aligned on the need for international solutions. Nowhere is that more important than in leading the global clean energy transition and the implementation, the full implementation without nuances, of the Paris Climate Agreement," Juncker said at a meeting of EU and China business leaders in Brussels on June 2.
NO. 10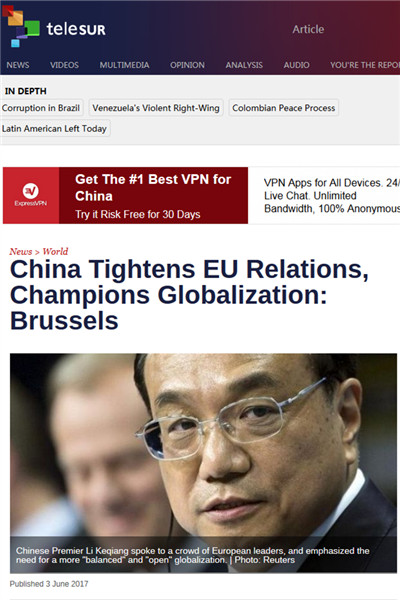 Telesur, a television network based in Latin America, cited these words from Premier Li that "China is willing to strengthen free-trade ties with Europe" on June 3.
China has rapidly expanded its role in shaping the world economy, most recently through the development of the Belt and Road Initiative, it said.