Due to the busy schedule of Premier Li Keqiang's Germany visit, a luncheon on June 1 turned into a dialogue among government officials and 22 entrepreneurs from China and Germany.
"We will talk with entrepreneurs during lunch, which actually helps illustrate the two countries' practical cooperation and mutual trust," the Premier said. "I hope you have a good lunch while reaching practical deals."
In fact, Premier Li and German Chancellor Angela Merkel find time to talk with entrepreneurs from both countries during their annual meeting every year, with "how to enhance bilateral economic cooperation" as an ongoing topic.
This year, Premier Li said that China has a huge market and millions in its skilled labor force, while Germany does better in industrial technology, making the China-Germany cooperation complementary.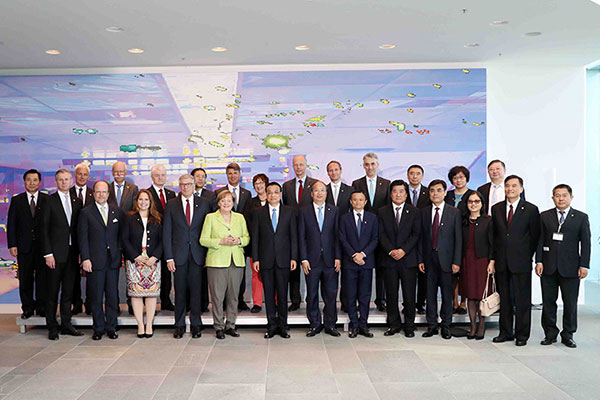 Jack Ma, chairman of Alibaba, said he hopes both countries can explore cooperation potential on big data, cloud computing and between small and medium-sized companies.
Shu Yinbiao, chairman of the State Grid Corp of China, and Harald Krueger, chairman of BMW Corp, both said they hoped that enterprises from both countries can work together to expand the third-party market. This idea was endorsed by the Premier.
Entrepreneur representatives from Germany and China also raised some issues that they are most concerned about during the meeting.
Yi Huiman, chairman of the Industrial and Commercial Bank of China, expressed his hope that Germany can maintain an open policy on foreign investment. And Hubert Lienhard, CEO of Vioth Group, also expected German enterprises can be treated the same as Chinese domestic companies.
Premier Li responded that the level of opening-up is a major concern to both countries' enterprises, indicating that the issue of information asymmetry still exists even with growing bilateral cooperation.
He explained that the two countries staunchly stick to safeguarding free trade and investment facilitation. However, it has only been about three decades since China opened up its market, so the issue of information asymmetry could result from insufficient business cooperation experience with German enterprises.
The Premier continued that with over 10 dialogue mechanisms established between the two sides, any issue can be openly discussed. China will never shut its door to the outside world, but only open wider.
Merkel also stated that Germany will strive to further practice "equality and opening up" for foreign investment, and she said allowing enterprises to express their concerns is an important step toward that goal.
Premier Li said he appreciated the honesty of the entrepreneurs and urged Chinese ministers attending the meeting to take note of each question and suggestion from the German side, and give them timely feedback.
He also hoped the German side could handle requests from Chinese enterprises efficiently in order to push forward the win-win results of bilateral cooperation.
Merkel spoke highly of Premier Li's positive view toward the issues and commented that the dialogue between China-Germany entrepreneurs has become a tradition that promotes fairness in bilateral interaction.