Premier Li Keqiang will attend the Summer Davos Forum in Northeast China's Dalian from June 26 to 28.
Premier Li will address the opening ceremony, hold talks with leaders from several countries, including Finland and Sweden, meet some forum participants, and exchange views with representatives from fields such as business, finance, think tanks, and media outlets.
The following highlights focus on this year's forum and look back at Premier Li's attendance at past forums.
About Summer Davos Forum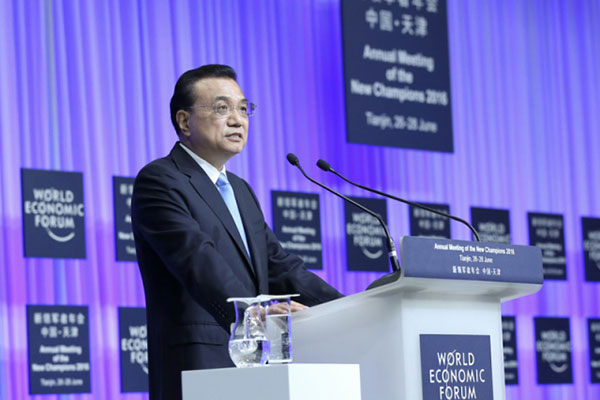 Premier Li Keqiang addresses the opening ceremony of Summer Davos Forum in Tianjin on June 27, 2016. [Photo/Xinhua]
Summer Davos Forum, also known as the World Economic Forum's Annual Meeting of the New Champions, is held alternatively in the Chinese cities of Tianjin and Dalian.
Established in 2007, the event has become an important global meeting on innovation, science and technology.
This year's forum, under the theme, "Achieving Inclusive Growth in the Fourth Industrial Revolution," focuses on how technology and policy innovations can accelerate a more inclusive style of economic growth that prioritizes meaningful job creation and sustainable development.
By June 20, over 2,000 politicians, officials, entrepreneurs, scholars, and media representatives from over 90 countries and regions had registered to attend this year's forum.
Premier Li has attended the forum since 2013 and the past four forums were, respectively, held under the themes of "Meeting the Innovation Imperative," "Creating Value through Innovation," "Charting a New Course for Growth," and "The Fourth Industrial Revolution and its Transformational Impact."
Premier Li's buzz words at Summer Davos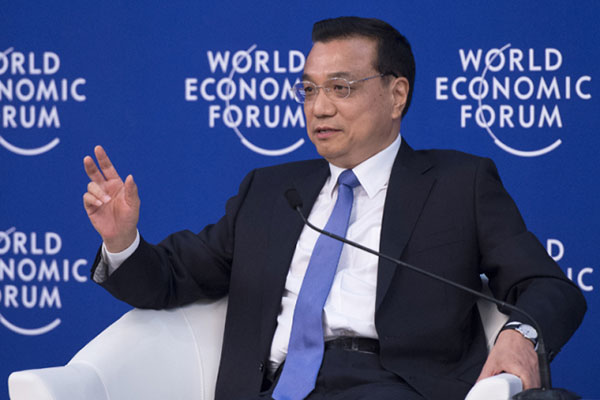 Premier Li Keqiang speaks to entrepreneurs and business leaders ahead of the Summer Davos in North China's Tianjin municipality on Sept 9, 2014. [Photo/Xinhua]
Premier Li mentioned several new concepts, including "mass entrepreneurship and innovation", and "two engines for economic growth", which later became buzz words within the international society.
During the opening ceremony of the 2014 Summer Davos Forum, Premier Li initially mentioned his plan of promoting "mass entrepreneurship" through the reform of innovation, and turning the plan into a national strategy, in an effort to forge ahead a nationwide spirit of innovation and entrepreneurship.
In 2017, the UN conference set each April 21 to celebrate World Creativity and Innovation Day and called for more supportive action from each nation.
Premier Li also, for the first time, mentioned the concept of "two engines for economic growth" during the World Economic Forum in Switzerland in January 2015. The concept includes two parts, creating new engines and upgrading old engines.
According to scholars, the new concept is not only the solution for the future growth of the Chinese economy but also for political and economic issues in the world.
Confidence in China's economy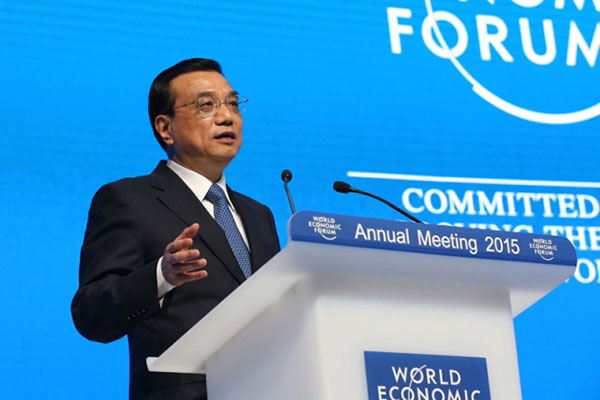 Premier Li Keqiang delivers a speech ahead of the WEF annual meeting in Davos, Switzerland on Jan 21, 2015. [Photo/Xinhua]
The Premier attended and addressed the 2015 World Economic Forum held in Davos, Switzerland. His speech focused on safeguarding peace and stability, promoting structural reform and strengthening new development momentum.
Premier Li used a mathematical problem to express China's confidence for its development in the future to the world. And he further explained that China's economic scale ranks second in the world with an increasing basic value. Even a growth rate of 7 percent will bring an annual increase reaching over $800 billion. Such a number is larger than a growth rate of 10 percent in the past five years.
China will switch from long-term, high speed growth to medium to high-level growth. Meanwhile, the economic development level will move from low scale to high scale, with rebalanced economic structure and lower risk, to ensure stable growth of the Chinese economy, the Premier said.
In 2016, during Premier Li's dialogue with entrepreneur representatives, he said that China has provided the world with not only a blueprint but supportive actions, which can be realized through entrepreneurs' efforts and to achieve win-win results.
Premier's old friend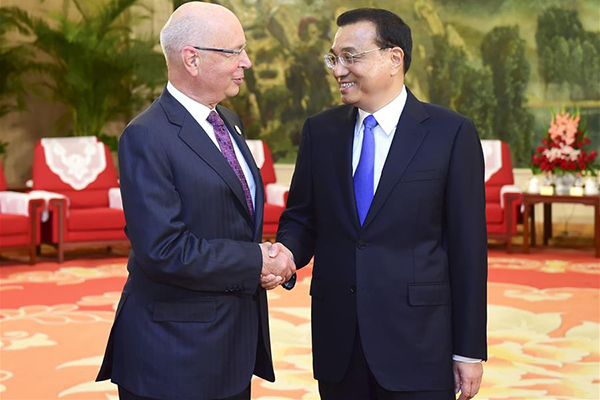 Premier Li Keqiang (R) meets with Klaus Schwab, founder and executive chairman of the World Economic Forum, in Tianjin, North China, June 26, 2016. [Photo/Xinhua]
Klaus Schwab, founder and executive chairman of the World Economic Forum, is one of Premier Li's old friends. They have met each year since 2013 due to the Davos Forum.