10th Summer Davos Forum, Tianjin
June 26 to 28, 2016
"The Fourth Industrial Revolution and Its Transformational Impact"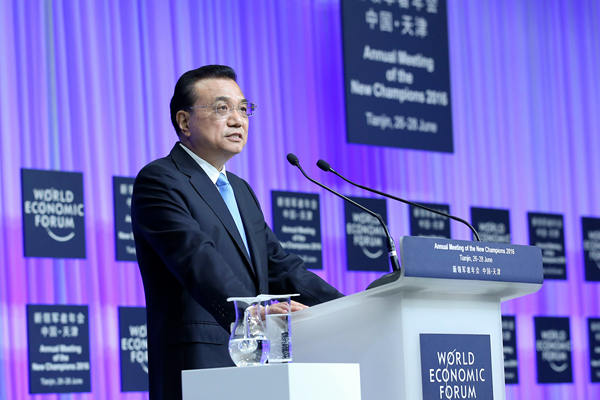 Chinese economy optimistic
Downward pressure on the Chinese economy is still huge, and difficulty still exists. We faced and undertook difficult tasks, showing that we have the determination to overcome it. Chinese economy is more about hope than difficulty.
New driving engines
Against the downward pressure, we did not take strong stimulative measures. Instead, we adopted new macro-control measures, pushed forward structural reform, and tried to create new growth engines while upgrading the traditional ones.
As time goes by, new growth engines are emerging, which will surely support the future economy in China.
Sharing economy
The sharing economy means crowd innovation. Everyone can take part in it and benefit from it.
It helps establish a reasonable pattern of income distribution, provide equal opportunities, expand the middle-income group, help each person realize the potential and promote social equity and justice.
China a responsible country
Overcapacity is a global issue, and we will take active measures to cut production capacity, which in turn shows China as a big responsible country.
Joint efforts
Amid globalization, it's impossible for any country to talk about domestic development while disconnecting from the global economic environment. We should join our hands to go forward.
9th Summer Davos Forum, Dalian
Sept 10 to 12, 2015
"Charting a New Course for Growth"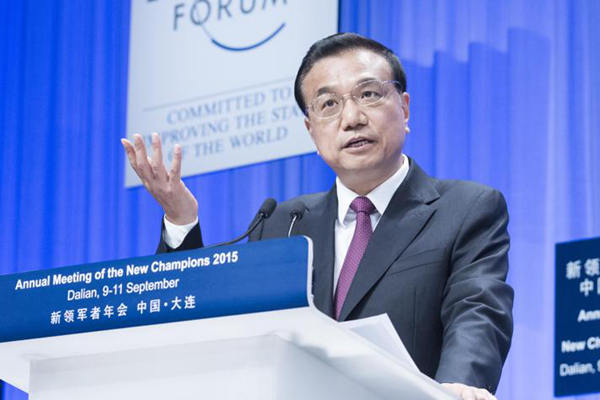 Economy remains stable
The government has taken effective measures to counter economic slowdown. Meanwhile, positive factors are increasing to support a stable economy.
Economic growth is resilient
China's economy is highly resilient and can endure any possible impact. The Chinese people are striving toward a well-off society, a great goal by 2020 that will summon strong social cohesion and power.
China remains a powerhouse for world economy
Although more than 70 million people are still living in poverty in China, the nation already has a large middle-income group with increasing consumption capacity.
China is not a source of risk but a powerhouse for global economic growth.
Government needs partners
Mass entrepreneurship and innovation require comprehensive and available public products and services supported by structural reform.
In the process, the government should encourage participation from private and foreign capital.
Continue opening up
China's reform is a process that requires continuous opening-up and integration with the world, and the government will make every effort to make the country the most attractive destination for global investment.
8th Summer Davos Forum, Tianjin
Sept 10 to 12, 2014
"Creating Value Through Innovation"
Deepening comprehensive reform
China will continue to deepen administration reform and cancel unnecessary approvals within five years.
The ongoing administration streamlining will unleash the potential of the market and inject vitality to economic growth.
Mass entrepreneurship and innovation
Innovation supports China's economic growth, and the government will advocate mass entrepreneurship and innovation to unleash the potential of the Chinese people.
More focus on economic restructuring
Under the new landscape of the domestic and global economy, China will pay more attention to economic restructuring rather than to short-term fluctuations in some indexes.
No zero-sum game among nations
Global prosperity needs win-win and beneficial cooperation among different nations. China will firmly stay on the peaceful road of development and become an active participant of and contributor to the international system.
Open, fair and unified international market
China advocates an open, fair and unified international market, and supports bilateral and multilateral free trade zones.
China is committed to building a high-level network of free trade zones and against all types of protectionism, as well as trade wars.
7th Summer Davos Forum, Dalian
Sept 11 to 13, 2013
"Meeting the Innovation Imperative"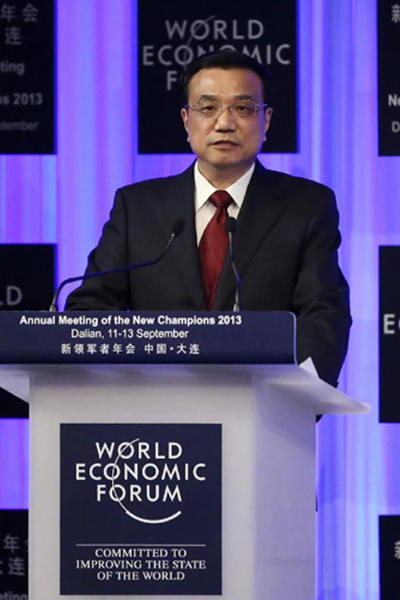 China to keep sustainable, steady growth
As long as we stick to long-term goals and resolve immediate problems, the Chinese economy will certainly keep sustainable, steady growth, just as a huge wheel sets course.
New season of economic miracle
Now comes a new season of the Chinese economic miracle, one of better quality and higher efficiency, and I guarantee you even more exciting stories to come.
Reform and development to benefit people
China's future economic growth must be based on higher efficiency and better quality, with resource conservation and ecological protection.
It will also be powered by innovation in science and technology, and secure employment and people's income. In other words, results of reform and development should benefit the majority of our people.
More participation in international governance
As an ancient Chinese saying goes, "A gentleman is always ready to help others attain their goals." We believe that only by helping each other can we all attain our goals.
We are ready to take a more active part in international governance and do our best to contribute to international public good. We are ready to share our poverty reduction successes and offer more assistance to fellow developing countries. We will share the responsibility contribute to a strong, sustainable and balanced world economy.
No country can live in isolation
In the world today, the trend toward economic globalization, a multipolar world and IT application is gaining momentum. We live in a global village. No country can live in isolation.