Premier Li Keqiang met with Philippine Foreign Secretary Alan Peter Cayetano, who is on an official visit to China, on June 30.
On behalf of the Philippine government and President Rodrigo Duterte, Cayetano expressed his condolences on the landslide disaster in Southwest China's Sichuan province. Premier Li responded by expressing his gratitude, and said the Chinese government was trying to conduct the best rescue and post-disaster relief work.
Premier Li added while China and the Philippines were neighbors across the sea, the two nations shared more common interests than divergences.
"The bilateral relations back on track are in accordance with the interests of both sides, and also benefits regional peace and stability," the Premier said.
"The Chinese government gladly supports Philippine's efforts in building its country, developing economy and securing stability, and is willing to respect and equally treat each other, consolidate political trust, deepen cooperation in fields including the infrastructure and close people-to-people exchanges with the Philippines."
Premier Li added ASEAN was always regarded as a priority in China's diplomacy with neighboring countries, and the Chinese side supports the Philippines as the rotating presidency of the ASEAN, along with its preparation of leaders' meetings on East Asian cooperation this year.
"China is willing to promote dialogues and cooperation with all the ASEAN countries on the basis of effective implementation of the Declaration on the Conduct of Parties in the South China Sea (DOC), which will safeguard the regional peace and stability," he said.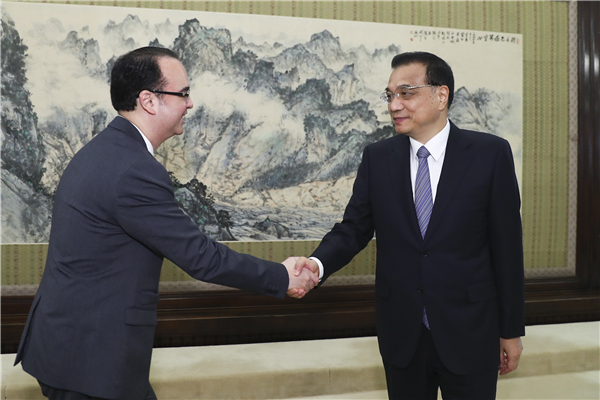 Cayetano added the high-level of exchange between the Philippines and China laid a solid foundation for improving bilateral relations.
"The Philippines side sincerely appreciates the support and assistance provided by the Chinese government, and is glad to deepen bilateral relations, and expand cooperation in various fields," he said.
"As the rotating presidency of the ASEAN this year, the Philippines is willing to promote the development of ASEAN-China relations, and well prepare a series of leaders' meetings on East Asian cooperation this year, sending a positive signal for maintaining regional peace and stability."