Inspection to FTZ as his first stop
On July 10, at Yangling demonstration zone in Xianyang city, Premier Li spoke highly of the administrative reform in the Shaanxi Pilot Free Trade Zone (FTZ). The reform allows business owners to remotely apply for business licenses by scanning QR codes through WeChat, and complete construction project applications at one window of the service hall.
Premier Li has high expectations from FTZs as they are entrusted with the mission of the country's reform and opening-up. He inspected Shanghai Pilot FTZ three times in three consecutive years, and made tours to FTZs in Guangdong, Fujian and Henan provinces.
Within only three years, the Shanghai FTZ has become a success and its mode has been expanded to 10 more provincial-level areas covering the whole country, with Shaanxi FTZ being one of them.
"Administrative streamlining, strengthening supervision and improving service are not slogans, but should be fully implemented," said Premier Li.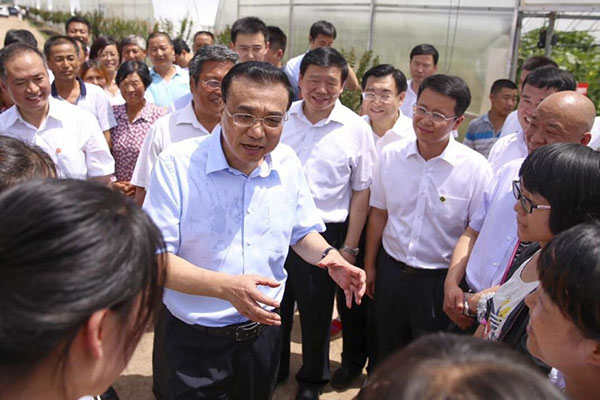 Encouraging farmers to start own business
Premier Li inspected a greenhouse at an innovation park at the Yangling Agricultural High-tech Industrial Zone in temperature reaching up to 40 degrees Celsius in Shaanxi province, on July 10.
As the first national zone of this kind, Yangling has cultivated and improved agricultural varieties and introduced information technology including "agricultural cloud" to promote modern agriculture.
The high-tech zone also established land banks and encouraged joint stock cooperatives to innovated agricultural development.
The integrated development of agriculture and modern technology will change the weak position of agriculture industry, said the Premier during the inspection.
Premier Li also urged local government to expand advanced agricultural technology and innovative mechanism to other major agricultural production areas and nationwide.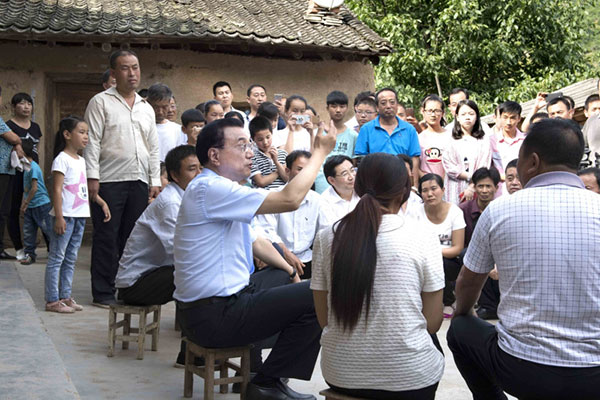 Stressing poverty alleviation
On July 10, Premier Li arrived at a village in Shaanxi province to meet villagers who are due to be relocated to better homes.
As the village is scheduled for relocation, villagers said they are looking forward to moving into their new houses. In response, Premier Li said he hopes this will improve the quality of their lives.
During his talk with the villagers, the Premier urged local governments to make long-term plans on poverty-relief relocation, considering both villagers' settlement and employment, as well as the innovative development of original villages.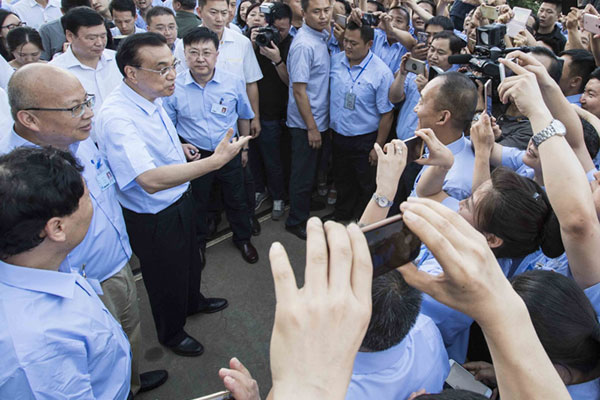 Startup teams help upgrade Chinese manufacturing
"How many of you have joined in startups and innovation?" Premier Li Keqiang asked when he visited Qinchuan Machine Tool Group in Baoji, Shaanxi province.
Almost all the workers raised their hands.
In the company which produces advanced machine tools and sophisticated equipment, 98 percent of their output is customized and various startup platforms have been set up. Over 700 workers have become internal entrepreneurs.
The Premier has found the significance of "mass entrepreneurship and innovation" to big companies — traditional standardized production cannot meet individualized market needs, so big companies must innovate organization, encouraging internal startups.
"I hope you continue working on core technologies, write a new chapter of 'Made in China 2025' and promote better growth of our economy," the Premier said, also his wish to Chinese equipment and manufacturing.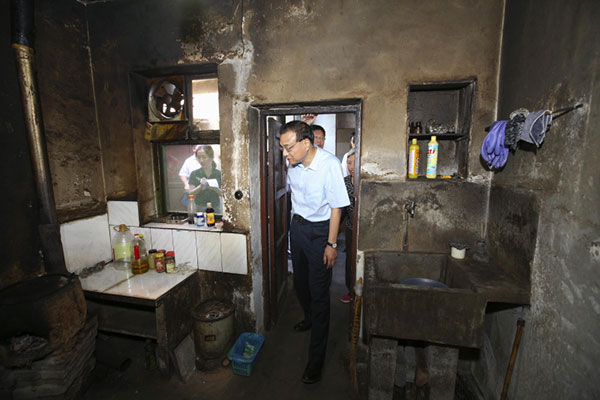 "I'm surprised that the Premier knows our life so well"
"How many toilets are there? How long does it take to fetch water? Are you using coal or wood to cook?" When the Premier visited a shantytown in Baoji city, he asked about the daily life of two families living there.
"I'm surprised the Premier knows our life so well," a resident in the shantytown said.
On July 11, The Premier walked along a bumpy and narrow road and visited the shantytown, which was built in the 1950s and now accommodates 156 households. They will soon move into new apartments.
Knowing that the project has financial surplus, he said the money should be invested in follow-up constructions.
Shantytown renovation is always one of the top concerns of Premier Li. Under his leadership, 80 million shantytown residents have moved to new apartments in 4 years.