Premier Li Keqiang met with Governor General of Canada David Johnston on July 13 in Beijing.
The Premier said the China-Canada relationship is healthily and stably developing. China is willing to continue high-level interactions with Canada, promote mutual political trust and cooperation in such fields as energy, mineral resources, infrastructure construction, sci-tech innovation and small and medium-sized enterprises.
He said both sides should promote negotiations on free trade to send the world a positive message of supporting free trade and boosting the recovery of the global economy. Efforts should also be made to promote win-win cooperation in education, tourism and sports, particularly winter sports.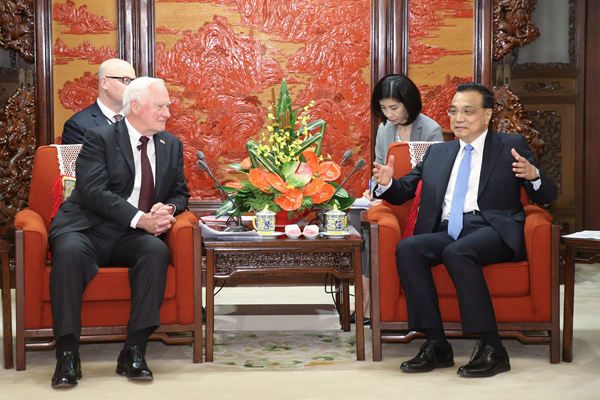 Referring to climate change, Premier Li said addressing this problem is the joint responsibility of the international community. China will take effective measures to fulfill its pledge on the Paris Agreement, and stick to the principle of common but differentiated responsibility. It is not only the responsibility that a large developing country should shoulder, but also a need to transform China's economic structure. China is willing to deepen cooperation with Canada in clean energy, he said.
Johnston recalled his several visits to China since the country launched the reform and opening-up policy and appreciated China's achievements in the previous decades. He recognized that the Canada-China relationship enjoys wider prospects in the future.
He said Canada is willing to work with China to inherit friendship, expand cooperation in various fields including sci-tech innovation, education and climate change, and effectively initiate the Year of Canada-China Tourism in 2018. Canada is also willing to support China in its preparation of the 2022 Winter Olympic Games.