Premier Li Keqiang met with visiting Michigan Governor Rick Snyder of the United States on Aug 1, calling for strengthening cooperation with the US side at local levels.
Premier Li said China and the US are the world's largest developing country and developed country, respectively. Common interests between the two countries far outweigh their differences. China-US relations are not only in the interest of both nations, but also of significance to the world.
This year, the two countries' heads of state held two successful meetings, bilateral talks are held at every level, and relations between the two countries have maintained sustainable development, the Premier noted.
"China is willing to continuously promote understanding and mutual trust with the US side on the basis of mutual respect and mutual benefit, making efforts in promoting pragmatic cooperation in key areas and pushing forward the healthy and stable development of bilateral relations", the Premier said.
He also said that local cooperation between China and the US has witnessed vigorous development. Frequent local exchanges and fruitful cooperation achievements are conducive to expanding the common interests, and further promoting bilateral ties.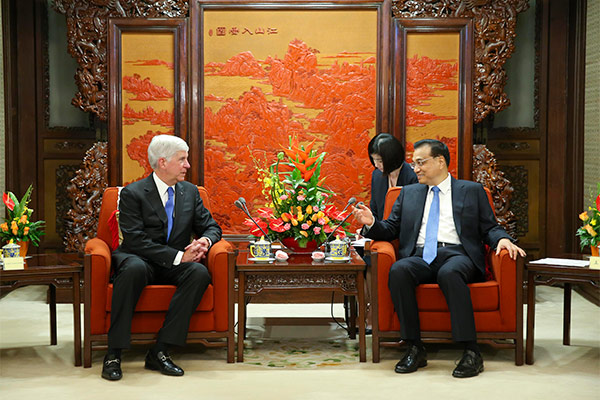 "All the US states, including Michigan, are welcome to reinforce exchanges with China's provinces and cities, with efforts to expand bilateral trade and investment and tap the cooperation potential in sectors such as the manufacturing industry," the Premier said.
Premier Li also called for consolidating consensus on bilateral cooperation, and creating more development and employment opportunities for people from both sides. "We will continue to work on creating a more open and convenient environment for bilateral cooperation," he added.
Snyder said bilateral relations and cooperation will bring mutual benefits and win-win results for both countries. The economic transformation and growth of the state of Michigan have benefited greatly in its cooperation with China.
"We look forward to further expanding cooperation with China in trade, investment and tourism," Snyder said. "Complying with globalization and a new round of technological and industrial revolution, we are striving for strengthening industrial upgrades and conducting innovative cooperation with China, in a bid to create more high-quality and high-level jobs, " he added.