Premier Li Keqiang on Aug 25 chaired a symposium on building China into a manufacturing power and continuing to promote the transformation and upgrade of its economic structure.
Officials in charge at the Ministry of Industry and Information Technology and the General Administration of Quality Supervision, Inspection and Quarantine who were at the symposium made reports on upgrades to the manufacturing industry and the streamlining of industrial products licenses.
Leaders from the TCL Group, Haier Group and the Industrial and Commercial Bank of China also spoke at the meeting and centered discussion on how to enhance the competitiveness of the manufacturing industry and developing inclusive finance to better serve the real economy.
It is commonly believed that the economy this year is registering a stable performance with good momentum for growth, with the business environment continuing to be improved.
Also, tax reduction measures, including the replacement of the business tax with a value-added tax, have lowered the costs of enterprises, thus leading to a rebound of business operations and profits, while accelerating upgrades in the manufacturing industry.
Premier Li asked the entrepreneurs at the meeting about the difficulties that their enterprises are facing, as well as for their suggestions relating to economic development in the country. He also called on related departments to further lower the threshold of market access, and strengthen the quality management of industrial products.
"Manufacturing is fundamental for economic development. Only if China's manufacturing industry gains strength for development, can the economy realize transformation and upgrades, and attain new-type industrialization," the Premier said.
China's manufacturing industry is still at the lower end of the international division of labor, large in scale but weak in competitiveness, the Premier noted.
To alter that, China should accelerate its deployment of building itself into a world manufacturing power, with efforts to eliminate backward production capacity and technology, and accelerate the replacement of old growth drivers with new ones.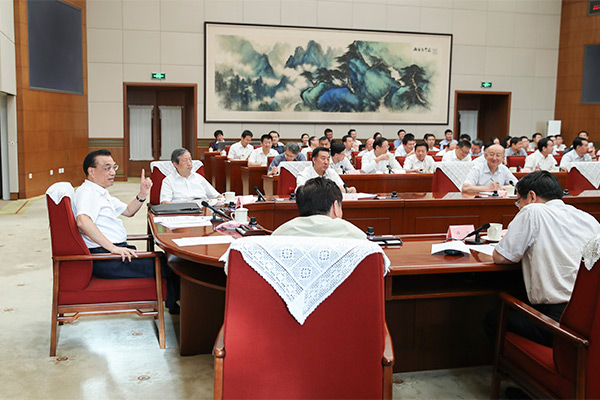 Premier Li stressed the importance of innovative development in enhancing the quality of the manufacturing industry. To this end, enterprises should play major roles in modifying product types, improving product quality and strengthening brand building.
Enterprises were urged to keep up to date with world advanced standards, make efforts to make breakthrough in technological innovation, develop high-end producer services and speed up the transformation of China's manufacturing from low-cost competitive advantages to high-quality ones, while striving to build more world-known Chinese manufacturing brands.
Enterprises also were asked to attach importance to the innovation of their management system, and rely on online platforms of the industrial internet and big data to promote reform in research and development, production and management modes.
In addition, innovation vitality and the efficiency of resource allocation should be enhanced, together with the development of customized production, so as to meet the diverse needs of users.
"We should take full advantage of our abundant resources of talent in improving the performance of and upgrading the manufacturing sector," Premier Li said. To meet the demand of national economic development and industry competition, entrepreneurship and craftsmanship should be promoted to train technical and management professionals in various sectors, he noted. The Premier also urged efforts be made to improve vocational education, and provide incentives and opportunities for various talents to foster high-quality workforce and entrepreneurs.
Premier Li said an enabling environment for improving and upgrading manufacturing should be built by further streamlining administration, improving supervision, optimizing government services, and lowering institutional transaction costs.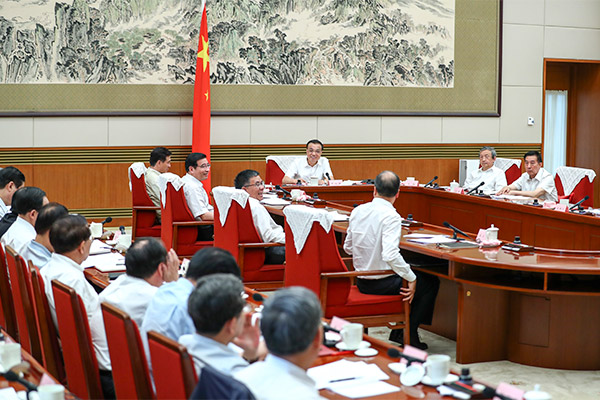 Market regulation and protection of intellectual property rights should be enhanced to crack down on production or sales of counterfeit goods, and build a social credit system and a business ecosystem that encourages entrepreneurship and innovation, the Premier said.
He urged studies be made on fiscal and tax policies for promoting the upgrade of the manufacturing sector while implementing measures on cutting taxes and fees. Financial institutions are encouraged to develop inclusive financial products to provide better financing and hedging services for enterprises, especially SMEs.