"Why does China only make up 1 percent of international standards while issuing the most industrial permits in the world?" Premier Li Keqiang's question was echoed by business leaders attending a symposium on Aug 25 in Beijing.
Fifty leaders of manufacturing enterprises and 35 senior government officials were invited to the symposium. Premier Li encouraged them to feel free to give their opinions on building a manufacturing powerhouse and transforming the economy.
"China must upgrade manufacturing industry with the implementation of 'Made in China 2025' strategy, promote innovation-driven development and new economic driving engines," he said.
In response to all the problems raised by the manufacturing leaders at the symposium, Premier Li asked the officials to carry out effective research and take measures to solve them.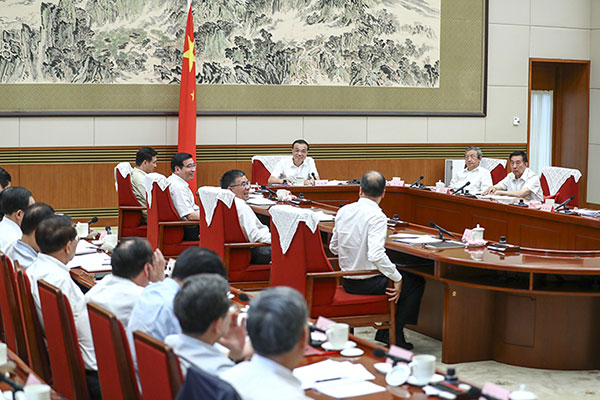 Premier Li asked related departments to build an enabling environment for upgrading the manufacturing industry, by continuing to cut industrial permits and administrative approvals, and optimizing services.
Market regulations, the protection of intellectual property rights and a social credit system should be enhanced to build a business ecosystem that encourages entrepreneurship and innovation, the Premier said.
"We should improve the competence of China's manufacturing by further cutting red tape," he said.
Haier Group Board Chairman Zhang Ruimin introduced "internal startups" in the company, saying that they have contributed a lot to the group's fast growth.
Premier Li said Haier's approach is an outstanding innovation in the corporate management system. "To build a made-in-China brand and promote the upgrade of manufacturing, we should rely on innovative development in both technology and management system." the Premier said.
The Premier stressed that high attention should be paid to innovation in a management system in upgrading the manufacturing sector to medium and high end.
Zeng Guang'an, president of Guangxi Liugong Group, said the sector now lacks high-level talent, and the drain of "craftsmen" has resulted in low rates of success in project implementation.
To solve this issue, Premier Li asked enterprises to strive to foster a "craftsmanship" spirit.
"China boasts of abundant resources of workforce and talent, which should be taken advantage of in a good way. We will not only promote entrepreneurship, but also cultivate a craftsmanship spirit of striving for the best," the Premier said.
He asked related departments to conduct in-depth study, train technical professionals and management talent, and reform the vocational education system to cultivate more "craftsmen" for the manufacturing industry. "No matter how novel the product designs are and how advanced the corporate concept is, manufacturing will still be the foundation," Premier Li said.
After the symposium, Wang Tao, CEO of DJI-Innovations, told reporters that Premier Li's words on building a manufacturing powerhouse are "very inspiring", and his company will continue to expand its overseas market and strive to build a made-in-China brand.
Chairman of TCL Corporation Li Dongsheng said the issues that the Premier asked attendees to reflect on are the major weak link of China's manufacturing industry. Premier Li's words at the symposium are very encouraging for manufacturing enterprises, he said.