Premier Li Keqiang met with President of Tajikistan Emomali Rahmon in Beijing on Aug 31. Rahmon is in China for a state visit and will attend the Dialogue between Emerging Market Economies and Developing Countries.
Premier Li said China and Tajikistan were friendly neighbors, and added their relationship has witnessed leapfrog development since the establishment of diplomatic ties 25 years ago.
He added the fruitful meeting between President Xi Jinping and Rahmon lifted the bilateral relationship and injected new vitality into the development of China-Tajikistan ties.
China is willing to deepen mutual political trust with Tajikistan, expand mutually beneficial cooperation and people-to-people exchanges, and coordinate closely with the country under the Shanghai Cooperation Organization and other mechanisms, bringing more benefits to the people of the two sides and in the region at large, Premier Li said.
"China firmly supports Tajikistan to progress along the development path that fits its national conditions," Premier Li said.
The Premier said that China will dovetail the Belt and Road Initiative with Tajik development strategy to deepen capacity cooperation in key areas such as energy, infrastructure construction, processing and manufacturing industries, and to enhance interconnectivity in transportation, communication and other fields.
He added China hoped Tajikistan will continue to provide convenience for their cooperation.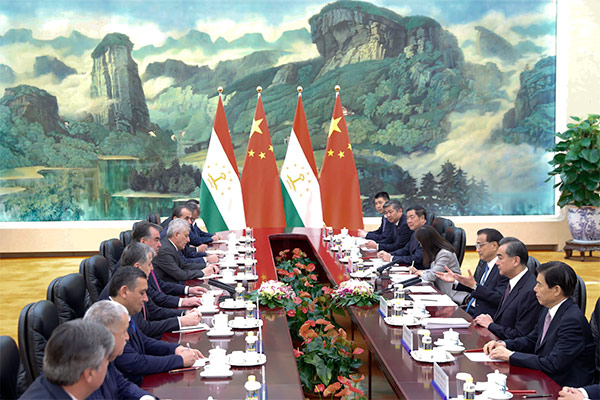 Rahmon said as strategic partners, Tajikistan and China have seen high-level performance in their relationship, as well as long-term developments in their cooperation in economy and trade, people-to-people exchanges and other areas.
Tajikistan hopes to work with China to better coordinate their development strategies, enhance cooperation in the fields including electricity, agriculture, transportation infrastructure, finance and tourism, and promote regional interconnectivity, in order to push for further development of bilateral ties and cooperation, he said.