Premier Li Keqiang met with visiting Singapore Prime Minister Lee Hsien Loong on Sept 19 in Beijing.
Premier Li said China-Singapore cooperation is deepening in an all-around way based on mutual respect and equality, bringing benefits to the people of both sides.
China, the Premier said, is willing to enhance political trust between the two sides, push forward intergovernmental projects, and strengthen exchanges in culture, social governance, defense, law enforcement, and regional affairs.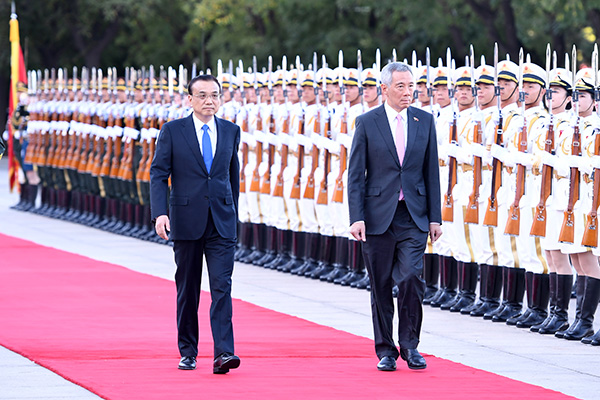 China is the largest trade partner of Singapore and Singapore is the largest source of foreign investment for China. To further increase the bilateral trade, China is willing to connect the Belt and Road Initiative with Singapore's development strategy, Premier Li said.
He said China will work with Singapore to promote the negotiation on regional comprehensive economic partnership and an upgraded free trade agreement.
"China welcomes Singaporean enterprises, and also hopes Singapore will support Chinese enterprises to participate in the Malaysia-Singapore high-speed railway with their advanced, safe, reliable, and cost-effective technology," the Premier said.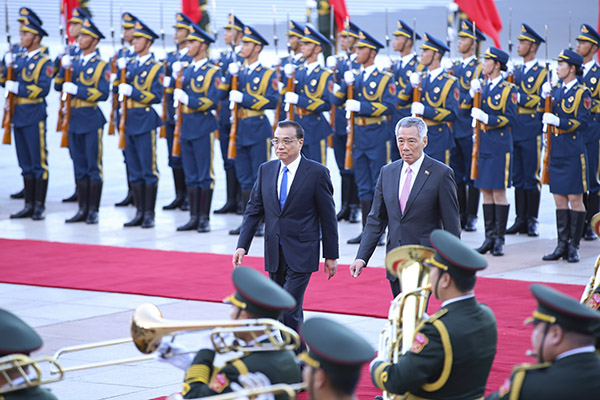 Premier Li also confirmed ASEAN as the priority in China's diplomacy with neighboring countries, saying that China supports Singapore as the coordinator in the China-ASEAN relationship and the rotating presidency of ASEAN next year.
He hoped Singapore could continue to play an active role in the China- ASEAN relationship and the cooperation among East Asian countries, contributing to higher-level China-ASEAN strategic partnership.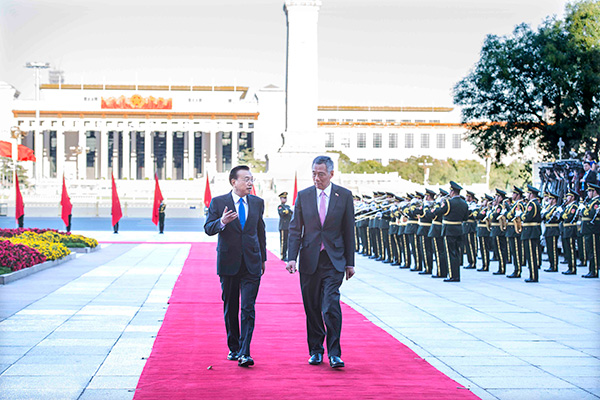 Lee Hsien Loong highlighted the good relationship between Singapore and China and the smooth progress of three inter-government projects.
He said Singapore is willing to build the "south corridor" with China to promote the connection in the region, and accelerate the negotiation of an upgraded free trade pact between the two countries and the regional comprehensive economic partnership.
Lee also called for strengthening bilateral cooperation on finance, investment, aviation and information technology and welcomed Chinese enterprises to join in the railway project which will connect Singapore and Malaysia. He said Singapore is willing to play an active role in promoting the development of ASEAN-China strategic partnership.
Both sides also exchanged ideas on the international and regional issues of common concern. Before the meeting, Premier Li held a welcoming ceremony for Lee in Beijing.