Premier Li Keqiang met with US Commerce Secretary Wilbur Ross on Sept 25 in Beijing.
The Premier said China-US relations and bilateral cooperation on all sides are developing well. President Xi Jinping and US President Donald Trump have held multiple successful meetings and dialogues, and the dialogues at all levels between the two countries have been promoted continuously, he said.
China is the world's largest developing country and economy, while the Unites States is the world's largest developed country and trading country. The healthy and stable bilateral relations between China and the US is in line with the interests of both countries and also the expectations of the international community, he said.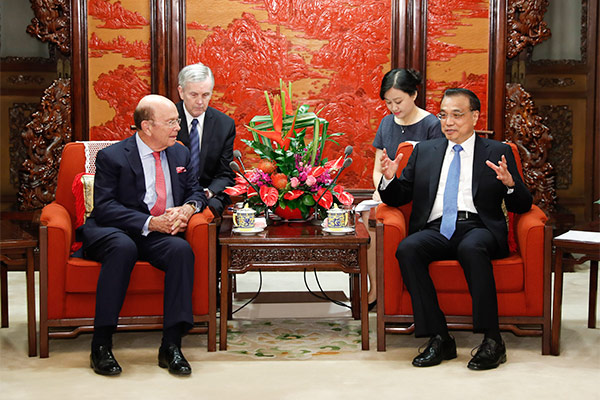 Premier Li noted that China and the US are each other's largest trading partner. Cooperation is the mainstream of bilateral relations, and common interests outweigh the differences, he said.
Based on the principles of mutual respect and win-win cooperation, China is glad to expand commodity and service trade, and deal with disputes and divergences through dialogues, the Premier said.
China will increase its opening-up to foreign countries, and also is creating a better business environment, which welcomes more American companies' investment, Premier Li said.
He also expressed hope that the US side could give equal treatment to Chinese enterprises, increase high-tech products' export to China and promote bilateral trade cooperation to achieve more results that benefit people in the two countries.
Ross said China and the US are getting closer, and there is a huge development prospect for both. The US welcomes China's accelerating opening-up steps, and is glad to strengthen dialogues with China, expand trade and investment cooperation and increase people-to-people exchanges to achieve more fruits from cooperation and promote the development of bilateral ties, he said.