Premier Li Keqiang met with the foreign experts who received the 2017 Friendship Award granted by the Chinese government, and their families, in Beijing on Sept 30.
Premier Li expressed his congratulations to the honored experts, fully appreciating their efforts to boost China's development, especially development in the country's western and central regions, and to promote China's friendship with other countries.
He told the foreign experts that China regards them as members of a family, and will continuously create conditions to make it more comfortable for them to work and live in China.
As the largest developing country in the world, China is at a critical period of economic upgrade and transformation of growth drivers, Premier Li noted.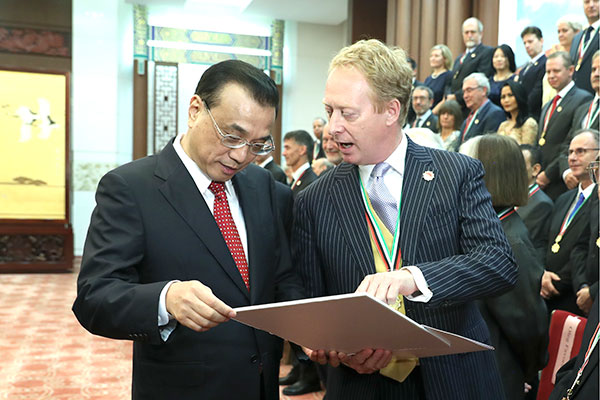 China possesses huge potential and the biggest advantage in human and talent resources. The Chinese government will not only tap the intelligence resources and the market of 1.3 billion Chinese people, but also open wider to global talents and continue to roll out measures to facilitate foreigners in working, visa application and living in China, the Premier said.
Premier Li also said more efforts will be made in intellectual property protection, to ensure that intellectual achievements will be explored in a better manner.
Through the reform of streamlining administration, delegating power to lower levels, enhancing regulation and optimizing services, the government will create a better environment for entrepreneurship and innovation, and enable China to become one of the most dynamic and attractive countries in the globe, he added.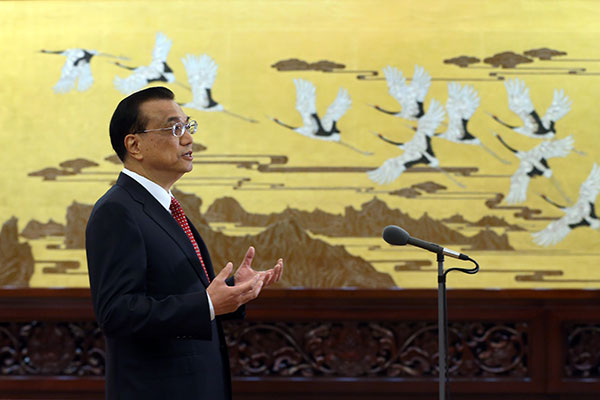 He said China welcomes foreign experts and talent to come and use their expertise in the country's modernization drive, to help upgrade technologies, expand consumption, promote the transformation of China's economy, and make contributions to the world economic recovery and growth.
The honored foreign experts introduced their achievements in boosting innovation, reviving real economy and promoting two-way investment to Premier Li. They offered their gratitude to the Chinese government, expressing their willingness to make continuous contributions to China's development.
Along with their relatives, they attended the reception for the 68th anniversary of the founding of the People's Republic of China at the invitation of Premier Li.
Vice-Premiers Zhang Gaoli and Ma Kai also attended the meeting.