Premier Li Keqiang met with visiting US President Donald Trump Nov 9 in Beijing.
Premier Li applauded the smooth progression in Sino-US ties, saying that President Xi Jinping and Trump have reached critical consensus concerning the two countries' future cooperation in their fruitful dialogue during Trump's visit.
"Close high-level exchanges help create new momentum for bilateral cooperation," he said.
The economic cooperation between China and the US has brought about closely intertwined interests, said the Premier, adding that the current uptrend of the two economies will benefit the whole world.
He explained that the potential is huge for Sino-US cooperation, as China, the largest developing country in the world, has a vast market and enormous human resources, and the US, the largest developed country, has advanced technologies and experiences.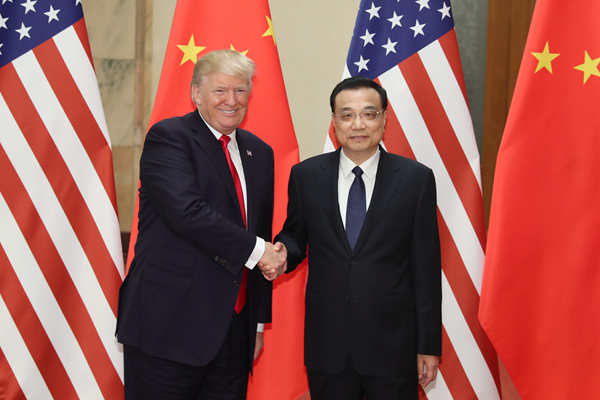 The Premier acknowledged that disputes and disagreements are hard to avoid in such cooperation, such as the trade deficit issue that concerns the US. "China never seeks trade surpluses with any country," he said. "The fact that the economic ties between China and the US have grown fast in the decades since the establishment of diplomatic relations has proven that the two countries' cooperation is highly complementary and relatively balanced."
He suggested both sides could further open up to each other, creating a level playing field for enterprises of both countries. "China welcomes the US to expand service trade and increase high-tech product exports to China," Premier Li said. "Through deeper economic and trade cooperation, both sides could achieve win-win results and give full play to their complementary advantages."
As permanent members of the United States Security Council and key players in the Asia-Pacific region, both countries should share responsibilities in maintaining peace and stability as well as prosperous development of the region. He said China is ready to strengthen communication with the US in international and regional issues, and he hopes the upcoming East Asia meetings could send positive signals in cooperation with joint efforts by all parties involved.
Trump spoke highly of his fruitful visit to China, expressing his hope that bilateral ties and cooperation could scale new heights, and that the two countries could jointly cope with the challenges and cultivate fair and balanced economic and trade relations.