MANILA — Premier Li Keqiang arrived in Manila on Nov 12 for an official visit to the Philippines and a series of leaders' meetings on East Asian cooperation.
During his five-day stay, Premier Li is scheduled to attend the 20th China-ASEAN (the Association of Southeast Asian Nations) (10+1) leaders' meeting, the 20th ASEAN-China, Japan and Republic of Korea (10+3) leaders' meeting and the 12th East Asia Summit.
This year marks the 50th anniversary of the establishment of ASEAN and the 20th anniversary of 10+3 cooperation.
As the world economy is going through weak recovery, East Asia has maintained the momentum of regional cooperation and development, and has become a stabilizing force in the complex and ever-changing global landscape, Premier Li said upon his arrival.
Noting that ASEAN stands at a new starting point of development, the Premier said China would work with all parties to plan for the future and build a closer community of a shared future.
China and ASEAN will mark the 15th anniversary of their strategic partnership in 2018.
This is the Premier's first overseas trip since the 19th National Congress of the Communist Party of China (CPC), and is expected to deepen friendly cooperation with the Philippines, promote China-ASEAN ties and enhance regional cooperation in East Asia, Chinese authorities said ahead of the visit.
In Manila, he will brief the leaders on the spirits of the 19th CPC National Congress as well as China's stance and policy on cooperation in East Asia, said Chinese Assistant Foreign Minister Chen Xiaodong in a press briefing earlier this week.
The Premier will propose nearly 30 new initiatives under various mechanisms to deepen practical cooperation on interconnectivity, food security, poverty reduction, tourism and anti-corruption, Chen added.
In addition, he will attend the leaders' meeting on Regional Comprehensive Economic Partnership (RCEP), a free-trade pact involving the 10 ASEAN members and six other countries — China, India, Japan, South Korea, Australia and New Zealand.
During the visit, the Premier will also hold talks with Philippine President Rodrigo Duterte on bilateral ties and issues of common concern.
It is the first visit to the Philippines made by a Chinese Premier in 10 years.
Currently, the China-Philippines relations are making steady and healthy progress, which accords with the common interests and aspiration of the peoples of the two countries and of the region as a whole, he noted.
The Premier said he would like to exchange views with the Philippine leaders on further strengthening friendship between the two nations and deepening cooperation in areas that suit the development needs of both sides.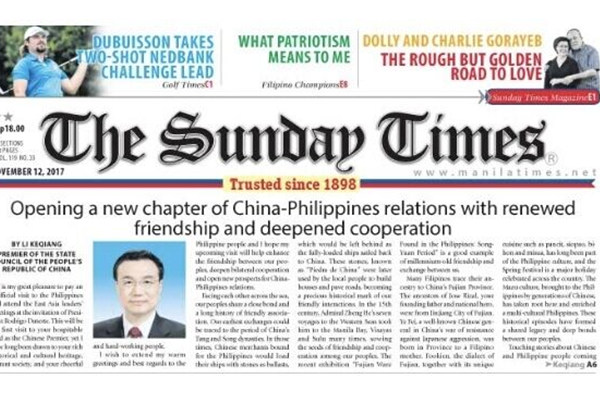 In a signed article published by major Philippine newspapers prior to his trip, he said he hoped the visit would help enhance friendship between the two peoples, deepen bilateral cooperation and open new prospects for China-Philippines relations.