Premier Li Keqiang on Nov 21 met with a Japanese economic delegation of more than 250 representatives in Beijing.
The delegation was led by the chair of the Japan Business Federation, Sakakibara Sadayuki; the president of the Japan-China Economic Association Shoji Muneoka, and the chair of the Japan Chamber of Commerce and Industry, Akio Mimura.
Premier Li said this year marks the 45th anniversary of normalization of diplomatic relations between the two nations, and the next year will be the 40th anniversary of the China-Japan Peace and Friendship Treaty.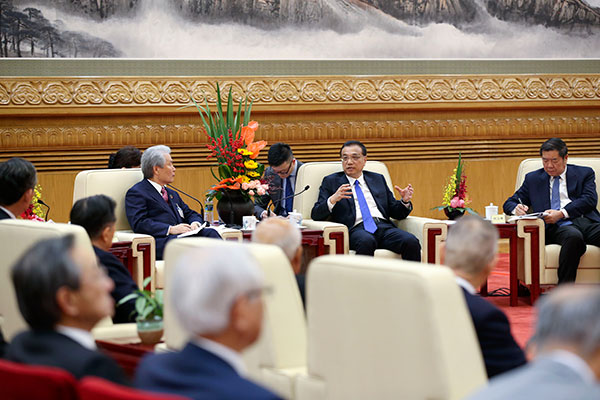 [Photo/China News Service]
Stable and healthy China-Japan relations serve the common interests of both sides, the Premier said.
He added that an improved China-Japan relationship lies in mutual trust and good civil exchanges. Mutual trust may hurt from time to time, but requires constant efforts of all social sectors to recover.
Premier Li expressed his hope that both sides will cherish and consolidate current improving bilateral relations, moving towards the right direction, and avoid any setbacks and interruption.
According to the Premier, economic and trade cooperation is always an important part of the China-Japan relationship. He hoped Japan's economic circle will play its role, making peace, friendship, and cooperation the consensus of all Japanese sectors in the development of bilateral relations.
The Premier said both nations should learn from history and face up to the future, and promote a stable and bright bilateral relationship based on the four political documents.
China's economy, the Premier said, will continue to maintain a stable and improving trend, and the nation will further expand opening-up and create a fair business environment for all.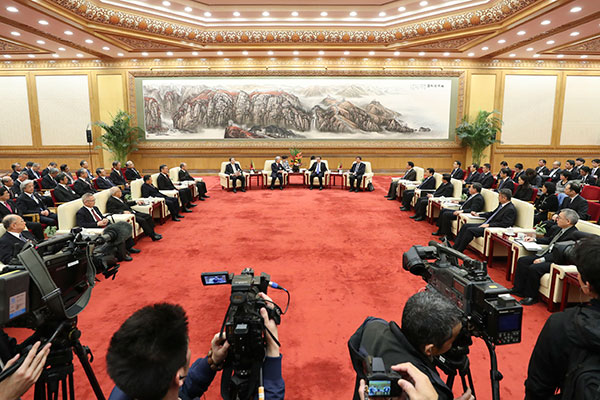 [Photo/Xinhua]
He hoped both sides could take each other's development as an opportunity, and promote growth through innovation and healthy competition, contributing to the building of the East Asian Community and win-win cooperation.
He added that China and Japan should maintain economic globalization, and accelerate negotiations on the China-Japan-ROK free trade agreement (FTA) and Regional Comprehensive Economic Partnership (RCEP), contributing to regional and global stability and prosperity.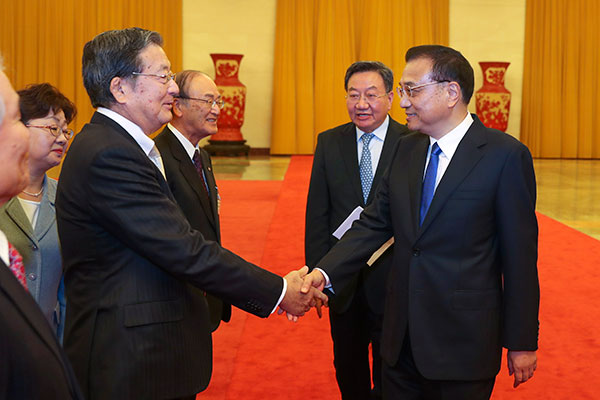 [Photo/China News Service]
The heads of the Japanese delegation said the Japanese economic sector welcomes improving bilateral relations, and China's economic restructuring has increased their confidence in bilateral economic and trade cooperation.
With huge potential, the bilateral economic cooperation also can play a role in boosting Asian and global development, they said.
The heads also expressed their hope for high-level results from China-Japan-ROK and RCEP negotiations, and their willingness to contribute more to bilateral relations during the two important years.
This was the 43rd visit of the Japanese delegation to China, and the largest one in recent years.