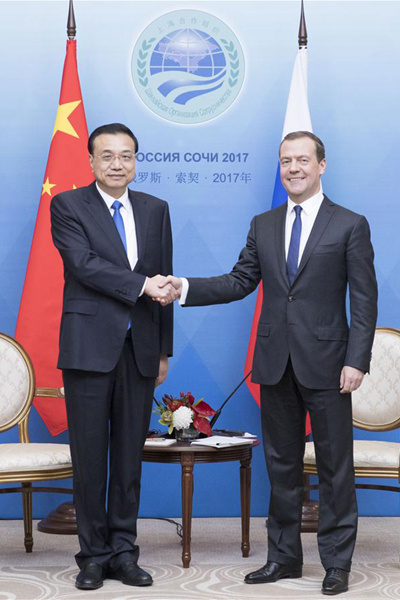 Premier Li Keqiang meets with Russian Prime Minister Dmitry Medvedev in Sochi, Russia, Dec 1, 2017[Photo/Xinhua]
SOCHI, Russia — Premier Li Keqiang met with his Russian counterpart, Dmitry Medvedev, on Dec 1, expressing the hope to upgrade and elevate China-Russia practical cooperation.
Premier Li said that against the backdrop of the picking up of world economy and trade, China and Russia should seize the opportunity to promote the liberalization and facilitation of trade and investment.
The two countries should continue to promote cooperation in major strategic projects on energy, investment, aviation and aerospace, further expand cooperation in science and technology innovation, and activate cooperation potentials between the two countries' small and medium-sized enterprises and at local areas, said the Premier.
"We should maintain the platform role of the Shanghai Cooperation Organization (SCO), and provide wisdom and contributions to building a community of shared future for mankind in the region and promoting openness and inclusiveness in the world," said the Premier.
He also reiterated that both countries need to align respective development initiatives and cultivate more cooperative highlights for bilateral ties.
Speaking highly of bilateral high-level contacts and practical cooperation, Medvedev said the two countries enjoy a high-level partnership, and Russia will work with China to promote the development of the bilateral ties.
The meeting took place on the sidelines of the 16th meeting of the Council of the SCO Heads of Government (Prime Ministers). Medvedev said the Russian side was glad to see the positive achievements reached at the meeting.