PHNOM PENH — Premier Li Keqiang met with his Thai counterpart Prayut Chan-o-cha on Jan 10, and both sides vowed to further promote bilateral cooperation.
Hailing the sound momentum of China-Thailand relations, Premier Li told Prayut on the sidelines of the second Lancang-Mekong Cooperation (LMC) leaders' meeting that the inauguration of the construction of China-Thailand high-speed railway last month marks a new step forward in bilateral cooperation.
The 253-km first phase of the railway links Bangkok with northeastern province of Nakhon Ratchasima. China is responsible for design of the railway, supervision of construction and manufacturing of trains and signal systems among others.
Premier Li called for joint efforts from both sides to facilitate the railway project and push forward cooperation in other areas.
China hopes to synergize its Belt and Road Initiative with Thailand's Eastern Economic Corridor construction, upgrade bilateral trade facilitation and enhance cooperation in such areas as trade, tourism and technology, Premier Li said.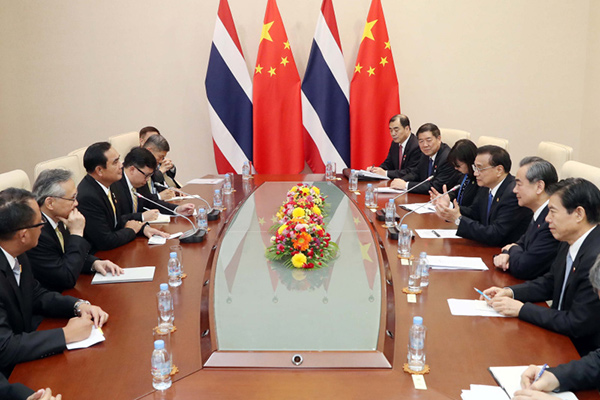 Premier Li Keqiang met with his Thai counterpart Prayut Chan-o-cha on Jan 10 in Phnom Penh, Cambodia. [Photo/Xinhua]
Prayut, for his part, said there is huge potential in Thailand-China cooperation, noting that the railway project is of historical significance.
Thailand pays close attention to China's innovation-driven development strategy and hopes to learn from China's experience, he said.
Prayut urged to combine the two countries' development strategies and boost cooperation in trade, technology, tourism and education.
The second LMC leaders' meeting was held in Phnom Penh on Jan 10, drawing leaders from six riparian countries — Cambodia, China, Laos, Myanmar, Thailand and Vietnam.