The State Council's eighth plenary meeting, chaired by Premier Li Keqiang in Beijing on Jan 22, discussed drafts of the government work report, which will be sent to provinces and departments of the central government for comment and advice. The final version will be submitted at the First Session of the 13th National People's Congress (NPC).
Delivering the government work report to the NPC is the legal obligation of the State Council, and the government needs advice from all sectors to further improve its work, according to Premier Li.
Despite complex domestic and international situations, great achievements have been made in the country's major economic and social development. The economy has been upgraded to a higher level, with structure further improved and reform deepened, while employment and poverty alleviation played a key role in enhancing people's livelihoods.
Last year, steady progress was made in economic growth, financial revenue, performance of enterprises and the fostering of new economic driving forces, a satisfactory result for the government's efforts during the past five years, laying a solid foundation for future development.
Premier Li said that it will be a tough job for the government to maintain the momentum of social and economic development this year. The government must be aware of the challenges and focus on crucial tasks, such as preventing major risks, taking targeted measures in poverty alleviation, and cutting pollution emissions, he said.
He urged promotion of innovation and competitiveness in the Chinese economy, and boosting market vitality and social creativity.
He said the government should do a better job concerning people's welfare, including education, healthcare, elderly care, housing and environmental protection, so as to enhance people's sense of gain, happiness and security.
The Premier urged State Council departments and local governments to fulfill their duties carefully and persistently, taking more practical actions based on people's needs and development.
He also urged migrant workers' back wages be paid, that quality heating and market supply during the holidays is ensured, that supervision of the production and logistical safety of food and drugs be strengthened, and that help gets to people with urgent needs.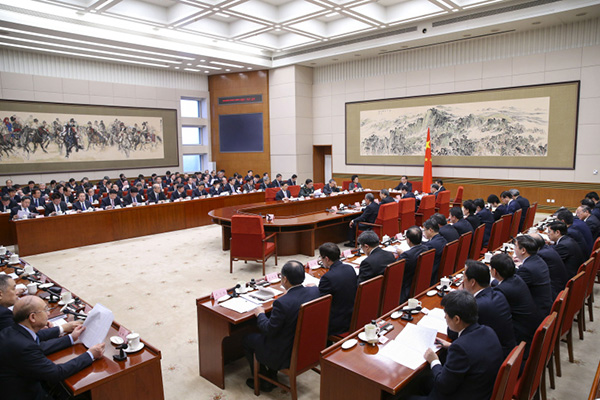 Vice-Premiers Zhang Gaoli, Liu Yandong, Wang Yang and Ma Kai, Chang Wanquan, Yang Jiechi, Guo Shengkun and Wang Yong, and others in the State Council also attended the meeting.