Premier Li Keqiang said China and Britain should join hands in safeguarding free trade and economic globalization, as he met with visiting British Prime Minister Theresa May on Jan 31.
The two leaders reached important consensus on that issue.
The Premier said the tremendous development around the world over the past decades is largely attributed to free trade and globalization, which has lifted hundreds of millions of people out of poverty, led many countries to prosperity and protected world peace.
"Even if problems exist, we should not stop globalization. Instead, we should adjust our strategy and steps," the Premier said.
Referring to the relationship between free trade and fair trade, he said, "Without free trade being the premise, fair trade goes nowhere. If trade vanishes, fairness of trade would make no sense."
May agreed that Britain and China should advocate free trade and globalization, and stand against trade protectionism.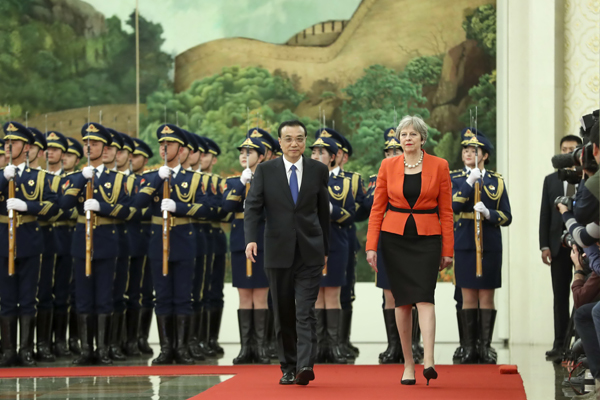 "China's economic growth created by reform and opening-up over the past 40 years made us realize that free trade can not only bring economic development and improvement in people's welfare, but also boost technology innovation."
She said Britain welcomed China's expanding investment.
"The achievements that China has made over the past 40 years are first brought by opening-up. Opening-up may cause problems, but if it is ceased, problems will be more severe," the Premier said, acknowledging that China will continue to promote two-way opening-up and free, convenient trade and investment.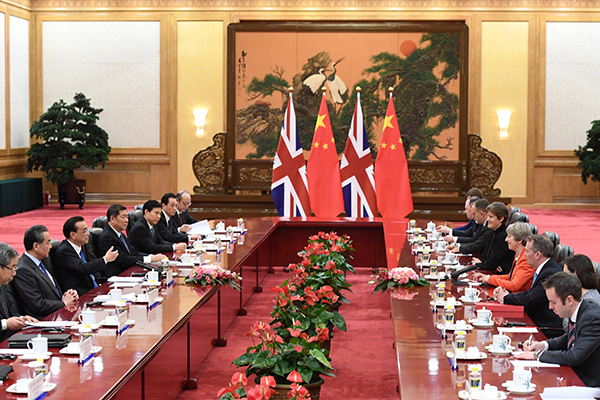 He stated clearly that China attaches great importance to cooperation on finance, approving Standard Chartered Bank to issue panda bonds and accelerating the preparation of Shanghai-London stock connect.
'China-Britain ties always live in spring'
During her stay, May invited Premier Li to visit Britain as soon as possible and attend a new round of annual meetings between the two government leaders.
Premier Li responded that China and Britain should make good use of such top-level designs to promote cooperation in all fields to a higher level.
Before the meeting, May wrapped up her visit to Wuhan, capital city of Hubei province. She told the Premier that after witnessing the closer exchanges between the two countries' students, she believed that their friendship will contribute more to the development of bilateral ties.
Premier said that the number of Chinese students studying in Britain is increasing, which reached 90,000 in the previous year. "China will be open-minded and continue to learn foreign management and technology."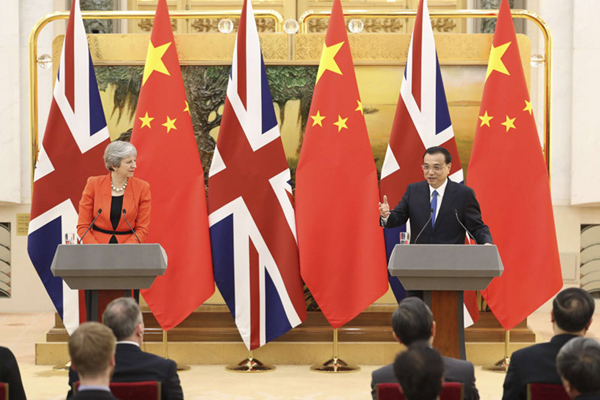 He stressed that China is willing to strengthen coordination with Britain on international issues under multilateral frameworks such as the United Nations and G20.
He quoted a Chinese saying — A year's work starts with spring — and said, as spring is coming, May's visit will boost Sino-Britain ties, which has entered a "golden age".
"The ties between the two countries always live in spring," he said. "China and Britain both stand in the crucial era of development, having complementary advantages and promising vision of win-win cooperation. We should seize this opportunity."