Premier Li Keqiang encouraged foreign experts to give suggestions on improving government policies about economic and social development while talking with some outstanding overseas experts working in China at a symposium on Feb 5.
John Hopcroft, Turing Award winner, academician of the Chinese Academy of Sciences and a professor at Peking University, suggested improving the evaluation system of China's higher education, saying that indicators such as project funds and number of published papers are the leading factors affecting Chinese universities' reputation and ranking, which have no direct relations with their mission of training talent.
The Premier agreed with him, and said the education quality of universities should be evaluated with more objective indicators, especially those related to undergraduate education.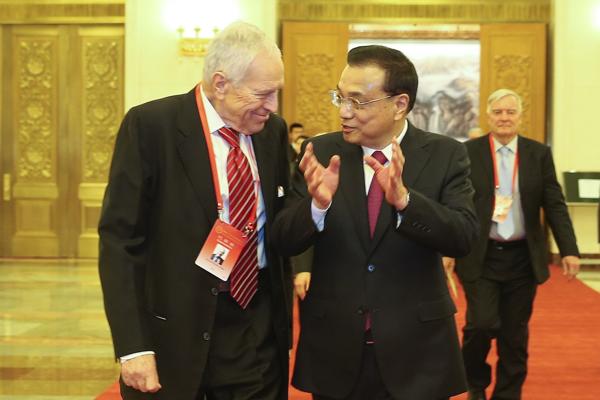 People's initiative key to economic prosperity
To achieve economic prosperity, we should further stimulate people's initiative, which is of great significance for economic and social development, said Edmund S. Phelps, winner of the 2006 Nobel Prize in Economics and dean of New Huadu Business School in Fujian province.
"It is inspiring to see China is creating an increasingly convenient environment for entrepreneurship and innovation," he said. "The Chinese people are full of energy, which is a driving force behind China's massive achievements, and will lead it to higher level of success and prosperity."
Premier Li thanked Phelps for his comments and for giving him a copy of Mass Flourishing, the professor's influential book on innovation and jobs, and said it is inspiring for China's efforts in promoting mass entrepreneurship and innovation.
Jürgen Fleischer, academician of the German Academy of Engineering and director of the Advanced Manufacturing Technology Center at Tongji University, suggested producing more customized products by developing intelligent and digital production equipment and systems to support the rapidly expanded market, and developing production systems with high efficiency of using resources and energy.
Premier Li noted that Fleischer put particular emphasis on intelligent manufacturing, and said by aligning German Industry 4.0 and Made in China 2025, the cooperation between the two nations will be further expanded.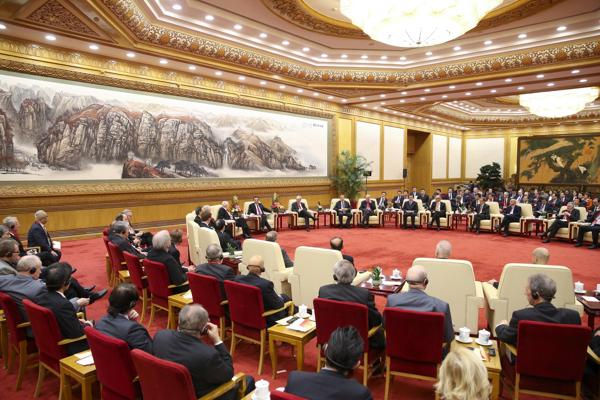 China's door will open further
An expert inquired whether there is a long-term solution to air pollution, as environment is important when a foreign expert is considering working in China.
The Chinese government has done a lot in improving the environment in recent years, and we will make more efforts, which conform to adjustment of economic structure, high-quality growth and improving people's lives, said Premier Li.
As this year marks the 40th anniversary of the reform and opening-up, China will take this opportunity to open wider to the outside world. He promised more favorable policies to attract foreign talent, such as to extend visa term to five to 10 years for multiple visits, try the "all-in-one-card" system, and relax restrictions on permanent residence permits.
China will only open further to the world, not only to import more products for domestic consumers, but also to attract more foreign talents, who are expected to take part in the country's innovative development, industrial upgrade, and structural adjustment to share development opportunities, the Premier stressed.