Premier Li Keqiang met with visiting United Nations Secretary-General Antonio Guterres in Beijing on April 8.
Premier Li said that currently, the global economy is maintaining recovery momentum with an unstable foundation. Meanwhile, unilateralism and trade protectionism are on the rise, and instabilities and uncertainties in global politics are still outstanding, he added.
China has been deeply integrated into the world, and thus needs a peaceful and stable external environment, the Premier said.
As the largest developing country, China is willing to shoulder international responsibilities commensurate with its national strength, jointly support trade and investment liberalization and facilitation with the international community, oppose trade protectionism and promote economic globalization toward a more open, inclusive, balanced and win-win way, thus making a greater contribution to human progress, he said.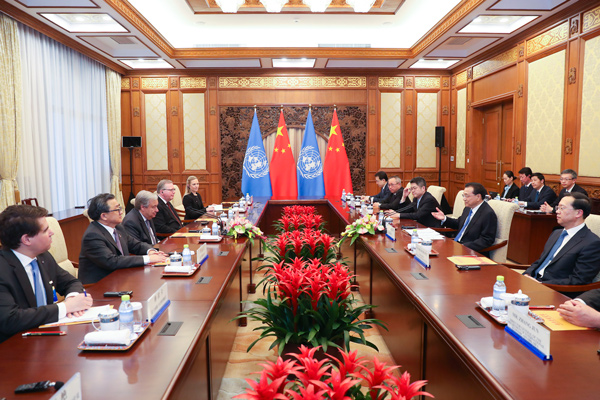 The Premier spoke highly of the relationship and cooperation between China and the UN, and stressed that China will firmly safeguard the basic principles of international relations based on the UN Charter, and support the UN's core role in international affairs.
China will continue to participate in the UN's efforts in a constructive way, actively promote the implementation of the 2030 Agenda for Sustainable Development, and make unremitting efforts to promote world peace and development, Premier Li said.
Calling China a main stabilizer of international peace and cooperation, Guterres said the UN is ready to expand all-round cooperation with China. The current difficulties facing economic globalization should be solved through international cooperation and multilateralism, rather than unilateralism and protectionism, the UN chief said.
International order based on rules should be observed, and protectionism harms others without benefiting oneself, he added.
The UN highly appreciates China's active role in multilateralism, and expected its positive contribution to coping with climate change, maintaining global peace, implementing the 2030 Agenda for Sustainable Development, and resolving international and regional issues, Guterres said.