At a State Council executive meeting on April 12, Premier Li Keqiang urged efforts to extend high-speed broadband networks to cover medical institutions in both urban and rural areas and to establish dedicated internet access services for medical purposes.
During an inspection tour to the remote medical consultation center of Huashan Hospital in Shanghai on April 11, Premier Li was informed slow internet connections remain a major problem affecting long-distance healthcare services.
On April 12, the day after his Shanghai tour, Premier Li presided over a State Council executive meeting, which decided on three measures, including Internet Plus healthcare.
"The central government should make investments in this field," the Premier said, "Internet Plus healthcare is not only a major initiative promoting the development of China's healthcare industry, but also a strong driving force behind the country's socioeconomic growth."
As China joins the ranks of middle-income countries, the demand for healthcare has increased substantially, Premier Li said at the executive meeting on April 12.
He added that accelerating the development of Internet Plus healthcare can ensure more efficient medical services and bring convenience to patients. More importantly, it will make quality medical resources more accessible the public.
Taking Huashan Hospital as an example, Premier Li said that more than half the patients at this century-old hospital are from other places. However, through its remote medical consultation center, patients in central and western regions can receive diagnosis and treatment by specialists in Shanghai with better credentials.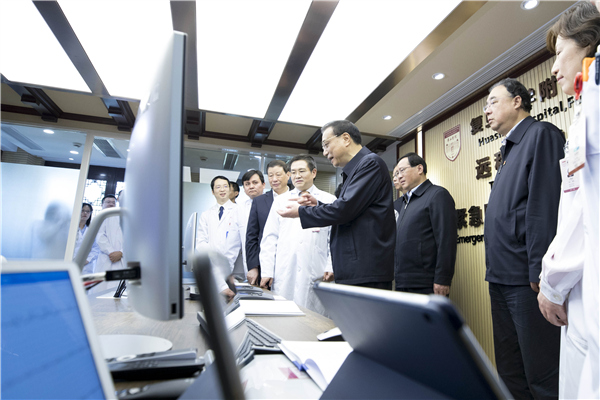 According to the Premier, more than 6,500 telemedicine cases have been completed so far, covering over 20 provinces and autonomous regions such as Yunnan, Qinghai, Xinjiang and Tibet.
"Internet Plus healthcare can significantly alleviate the problem of inaccessible and expensive public health services for the general public while improving people's health," the Premier said.
At Huashan Hospital, he had a conversation through a telemedicine consultation system with doctors in Golog in Qinghai province, Tengchong in Yunnan province and Kashgar in Xinjiang Uygur autonomous region. They told the Premier that slow internet connections and poor medical imaging equipment are among the key factors affecting remote diagnosis and treatment.
"The government should increase investment in weak areas relating to people's lives," the Premier said, calling for related departments to ensure the supply of medical testing equipment at central hospitals in remote areas.
According to the decision made at the executive meeting on April 12, China will explore the real-time sharing of prescription and drug retail sales within medical institutions, promote one-stop medical insurance settlement and refine the system of Internet Plus healthcare standards. More efforts will be made to accelerate the exchange and sharing of medical information and strengthen the quality supervision of medical services and information security.
Premier Li said Internet Plus healthcare is still in an exploratory period, calling for related policy support.
He stressed the need to build a sustainable development mechanism, which should be guided by public services and supported by the market system at the same time. Otherwise, it cannot be expanded or replicated on a larger scale, added the Premier.
The information isolation within medical institutions not only wastes medical resources, but also delays the treatment of patients, so information sharing is quite needed, he said.
Internet Plus healthcare can help improve the well-being of the public and effectively drive development, so once the decision is made, related departments should work together to accelerate the implementation process, said the Premier.