Premier Li Keqiang met with European Commission Vice-President Jyrki Katainen in Beijing on June 25.
Katainen is on a visit to China to attend the 7th China-EU High-level Economic and Trade Dialogue.
Premier Li said both China and the EU are major world economies, being each other's largest source of imports and major export market.
As uncertainties in the world become increasingly prominent, China is ready to strengthen coordination with the EU to maintain multilateralism and a free trade system, promote trade liberalization and investment facilitation, and make contributions to economic globalization and the recovery and growth of the world economy, so as to send a positive signal to the world, the Premier said.
This year marks the 15th anniversary of the establishment of the comprehensive strategic partnership between China and the EU, said the Premier. China firmly supports the process of European integration, hoping the EU remains united, stable, open and prosperous.
Premier Li also expressed hopes that the China-EU Summit, which is to take place next month, will achieve positive results in such areas as promoting the negotiations on China-EU Investment Agreement and dealing with climate change, and will play an active role in deepening dialogue and cooperation between the two sides and coping with global challenges.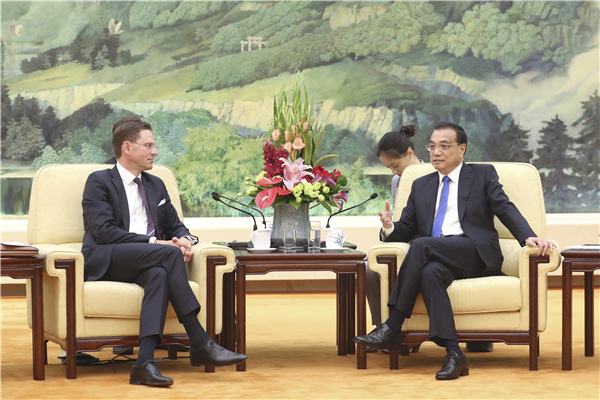 Katainen said that a series of consensuses have been reached at the 7th China-EU High-level Economic and Trade Dialogue. In the current situation, the two sides agreed to oppose trade protectionism and effectively safeguard multilateralism and free trade.
During the upcoming China-EU Summit, the EU expects both sides to jointly propose the initiative of strengthening the role of the WTO and multilateralism, push for positive progress in negotiations on China-EU Investment Agreement, and show the world that EU-China cooperation will not only benefit both sides, but also help promote world peace, prosperity and stability.
State Councilor Wang Yi took part in the meeting.