Premier Li Keqiang held a meeting with French Prime Minister Edouard Philippe in Beijing on June 25.
As both China and France are permanent members of the United Nations Security Council and major global economies, strengthening cooperation would be beneficial to the well-being of the two peoples, the development of bilateral relations, and peace, stability and prosperity of the world, Premier Li said.
President Xi Jinping and his French counterpart Emmanuel Macron charted the course for China-France relationship in the next stage when President Macron visited China in January, said the Premier. China is willing to work with France to further consolidate mutual trust, enhance cooperation, and forge a stronger and more vigorous China-France comprehensive strategic partnership, he added.
Premier Li said pragmatic cooperation is a "propeller" for the relationship. China is ready to work with France to expand cooperation, and turn the political consensus and cooperative willingness into practices of cooperation, he added.
Premier Li called on continuing to promote dovetailing strategic industries, implementing major nuclear energy and aerospace projects, and supporting enterprises and research institutions of both countries to enhance innovative cooperation in areas such as digital economy, artificial intelligence and high-end manufacturing.
He stressed improvement in trade and investment facilitation, and called for efforts to expand cooperation in the fields including agri-food, finance, innovation, medicine and health.
China welcomes the entry into Chinese market of more quality French goods which meet consumers' demands, said the Premier. The two sides have signed beef import protocol.
Premier Li said he hopes the French side will continue relaxing the export restrictions regarding high-tech products, and create a fairer and more transparent business environment for Chinese investors.
The Premier said China also hopes to promote combination of the third-party market cooperation with the Belt and Road Initiative, to better meet the demands of the third-party country.
As both countries enjoy profound histories, China is ready to enhance cooperation with France in areas including language and culture, education, youth and museums, said the Premier.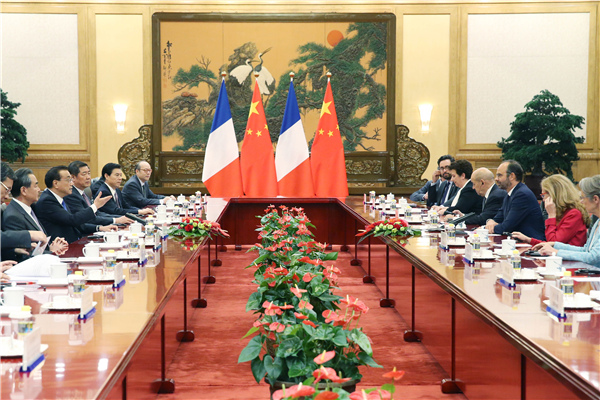 He stressed that under the current circumstances with increasingly prominent uncertainties and rising unilateralism, protectionism and populism, China is willing to join hands with France and the rest of European countries to enhance dialogue and cooperation, safeguard the international order with the principles of the UN Charter at the core, maintain multilateralism and the free trade system, and tackle global issues such as climate change.
The Premier also expressed his hope that France, as an important EU member, will continue to play a constructive role in developing the China-EU relationship.
Philippe said the China-France comprehensive strategic partnership is based on the long-term efforts of generations of leaders.
He said France would like to work with China to further strengthen political mutual trust, promote pragmatic cooperation, deal with current uncertainties in the world, safeguard multilateralism and the free trade system, oppose trade protectionism and unilateralism, and expand cooperation in areas such as industry, economy, civilian nuclear energy and aerospace.
Though geographically far apart, the two countries have similar positions on many issues, said Philippe. He said France hopes to enhance cooperation with China in fields such as culture and education, to promote friendship between the two peoples.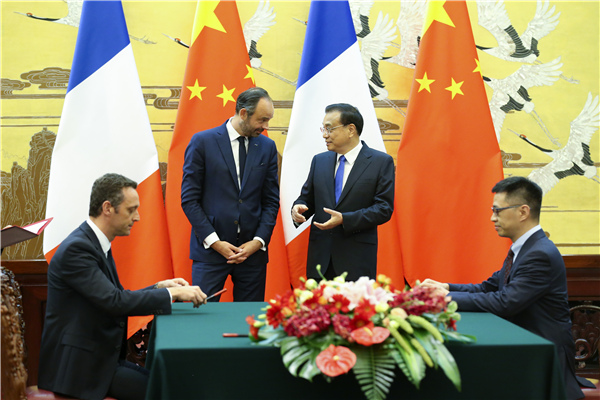 The two sides also exchanged views on international and regional issues of common concern.
After the meeting, they witnessed the signing of a dozen cooperation documents involving areas such as energy, science and technology, agri-food, medicine and health.
Premier Li held a welcoming ceremony for the French prime minister at the North Hall of the Great Hall of the People before the meeting.
State Councilor and Foreign Minister Wang Yi attended related events.