SOFIA — Premier Li Keqiang called for enhanced cultural and people-to-people exchanges between China and Bulgaria to consolidate their traditional friendship.
Premier Li made the call during talks with Bulgarian Prime Minister Boyko Borissov on July 6, expressing the hope that the two countries will strengthen their cooperation in the fields of culture, language and tourism.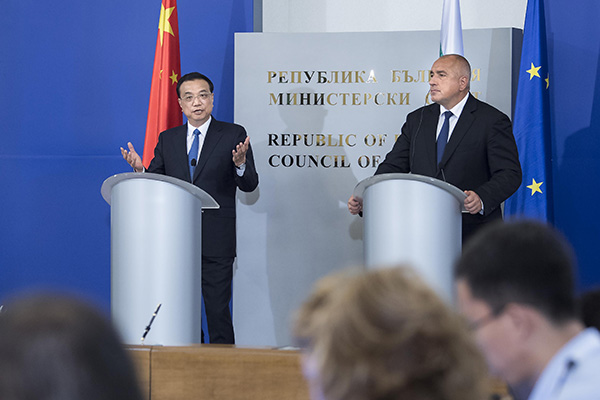 Premier Li Keqiang and Bulgarian Prime Minister Boyko Borissov attend a joint press conference in Sofia, Bulgaria, July 6, 2018. [Photo/Xinhua]
The Premier arrived in Bulgaria on July 5 for an official visit to the European country and the seventh leaders' meeting of China and 16 Central and Eastern European countries.
Premier Li's trip marks the first visit to Bulgaria by a Chinese premier in 18 years.
He expressed support for Bulgaria to set up a cultural center in China, and urged the European country to adopt more visa facilitation measures for Chinese citizens.
In a joint communique issued on July 6 by the Chinese and Bulgarian governments, the two sides agreed to take the 70th anniversary of their diplomatic ties in 2019 as an opportunity to deepen cooperation in various areas and expand personnel exchanges, so as to enhance mutual understanding and friendship between their peoples.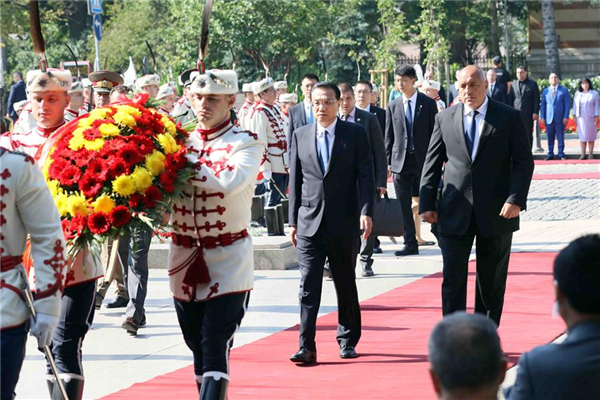 Premier Li Keqiang and Bulgarian Prime Minister Boyko Borissov lay a wreath to the Monument to the Unknown Soldier before their talks in Sofia, Bulgaria, July 6, 2018. [Photo/Xinhua]
The two sides will actively conduct bilateral cultural cooperation and encourage exchanges among their artists, and Bulgaria supports the operation of the Chinese cultural center and Confucius Institute in Sofia, according to the document.
They agreed to expand educational cooperation and encourage students to study in each other's educational institutions. They also vowed to seize the preparation for the 2022 Beijing Winter Olympics as an opportunity to beef up sports cooperation.
The two countries pledged to make good use of the 2018 China-EU Tourism Year program to boost cooperation in tourism resources promotion, data exchange and tourist routes development.
They vowed to take practical measures to attract tourists from each other, and support civil aviation companies in carrying out commercial cooperation and launching direct flights when the conditions are ripe.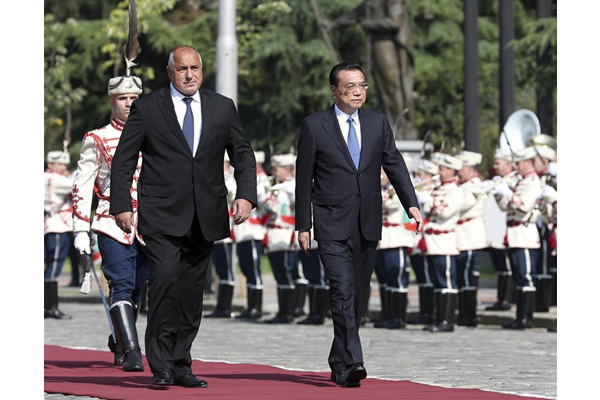 Premier Li Keqiang attends a welcome ceremony held by Bulgarian Prime Minister Boyko Borissov before their talks in Sofia, Bulgaria, July 6, 2018. [Photo/Xinhua]