Witnessed by Premier Li Keqiang and German Chancellor Angela Merkel, Guangdong provincial government signed a Memorandum of Understanding with German chemical company BASF on July 9. According to the agreement, a highly-integrated chemical production base will be set up in Zhanjiang of Guangdong, the first wholly-owned foreign chemical company in China.
President of Contemporary Amperex Technology Co Ltd (CATL), a global leading company in manufacturing new energy cells, also signed an agreement with the economic minister of the eastern German state Thuringia to build a new energy automobile cell plant there.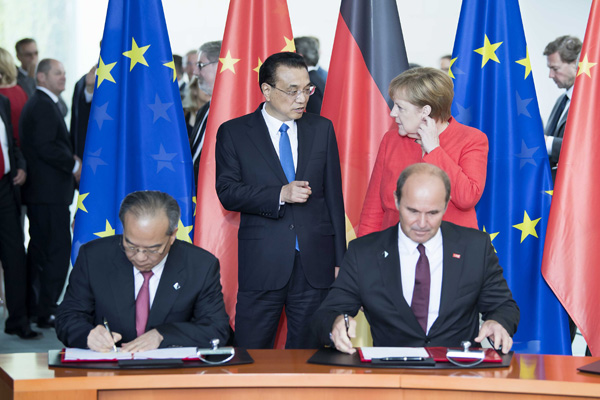 The significance of the two agreements were frequently mentioned by the two leaders on the fifth round of intergovernmental consultations and the closing ceremony of the ninth China-Germany Economic and Technological Cooperation Forum held on the same day.
"Frankly speaking, despite the fact that China is a developing country with unbalanced regional development and its central and western areas need investment projects such as CATL, the Chinese government supports CATL to make the choice since it's in accordance with market rules and company's willingness." said Premier Li, adding that this showcases China's opening-up.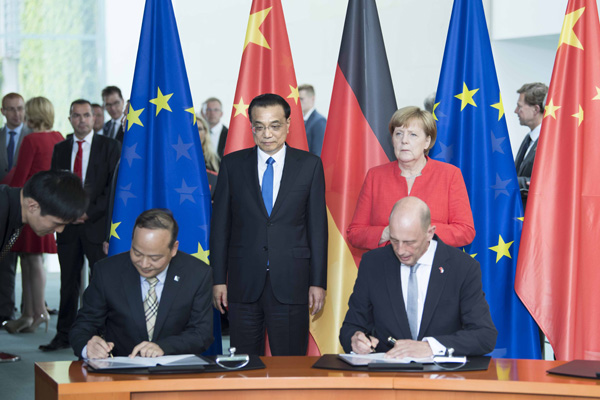 Merkel responded that just like China needs to expand the western development, Germany needs to speed up its eastern development. She said Germany welcomed the investment from CATL, as it is the first time to introduce this kind of technology into Europe.
Merkel said China's investment in Germany has entered a new stage, and German market is open to Chinese enterprises.
CALT's investment in Germany will not only bring a new technology, but also more than 600 job positions. It will also provide products for German automobile companies such as BMW Brilliance Automotive, Volkswagen and Daimler.
Data shows that the two-way investment between China and Germany has accumulated more than $40 billion, with more than 7,000 German enterprises in China, and 2,000 Chinese enterprises in Germany, covering areas such as finance, science and technology, environmental protection, energy and people-to-people exchanges.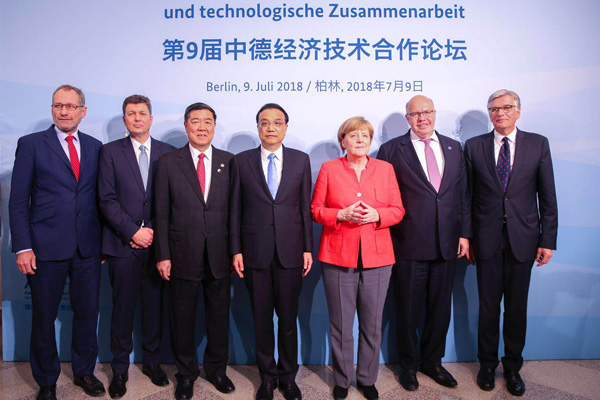 With some German enterprises taken over by Chinese firms, there have been criticisms in Germany, including it hurts their national feelings. Premier Li responded that he is not clear with the takeover details, but connecting takeovers with national feelings is far from inclusiveness and opening-up.
In the 1980s, China's First Automotive Works started to set up joint ventures with German Volkswagen in China, and now the German side holds nearly 50 percent of the stakes, and the two sides are negotiating on expanding the shareholdings.
That proved China stays to hold an open and inclusive attitude, and it will further expand the opening-up, said the Premier.
German enterprises enjoy broad prospects for expanding their exports of competitive commodities, high-end equipment and high-quality services to China, the Premier said, calling for both countries to further promote two-way investment and creating a fair, transparent and predictable investment environment for each other.
He said a free, open trade and investment environment is essential for China-Germany economic and trade cooperation. In the face of anti-globalization, rising trade protectionism and unilateralism, China and Germany, as two major economies in the world, should join hands to uphold free trade and multilateralism.
"The consensus reached and more than 20 agreements signed during our intergovernmental consultations today are to send a clear message to the world: globalization is an irresistible trend," the Premier noted, saying that China is a staunch supporter for multilateralism and free trade.
"We have been paying attention to the latest progress of China's opening-up, and appreciate the positive signals released by China in improving its market environment and opening its financial market," Merkel said, adding that "China is a huge market with more than 1.3 billion people, implying a promising future for China-Germany cooperation."
"Trade wars will harm the interests of all countries, and Germany is ready to work with China in supporting free trade and opposing trade protectionism," she said.
Premier Li reaffirmed that China will be more open to the outside world and develop the market economy, expressing the hope to carry out technical cooperation and expand third-party cooperation with Germany to build a mutually-beneficial and all-win partnership.
"The global village looks small, but the world market is actually huge," he concluded.