Premier Li Keqiang presided over a meeting of the steering group on western development on Aug 21, which laid out more measures to push forward the drive.
Officials from the National Development and Reform Commission and western provinces and cities reported the current progress.
Premier Li, also the group leader, said, since the 18th National Congress of the Communist Party of China, the western regions had made historical achievements in economic and social development, providing strong support to the nation.
Western regions, he said, breed strategic space for the nation's development, and are also a key area to build a comprehensive prosperous and modern society.
He stressed that western regions shall strive for high-quality and balanced growth, promote industrial upgrades, and improve people's livelihoods through reform, opening-up and innovation.
Premier Li said it is necessary to create a more competitive soft environment to enhance the self-development capacity in western regions.
Meanwhile, administrative reform shall be deepened to solve outstanding problems that hinder the development of enterprises, with greater steps in reducing institutional costs.
"We must take entrepreneurship and innovation as an opportunity to promote industrial competitiveness across the western region," he said.
The Premier said more work should be done to integrate optimization of the economic structure and expansion of domestic demand.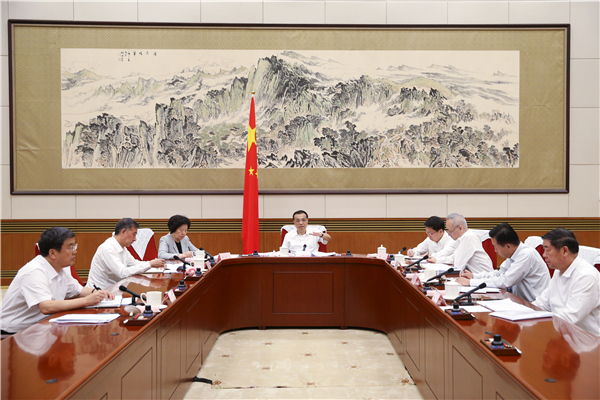 According to the Premier, efforts should be made to focus on key shortcomings, and promote construction of a number of major projects in the west that are in urgent need and in line with national planning.
In addition to increased support from the government, western regions also need to actively attract private capital through deepening reforms, and accelerate the construction of large-scale channels such as the Sichuan-Tibet Railway and the Chongqing-Kunming Railway, he said.
At the same time, western regions should also promote the construction of such backbone networks as electricity, oil and gas, and information.
More work should be done to optimize the consumption environment; encourage the development of emerging consumption such as online shopping, culture and health; and release the consumption potential in the western market, he said.
Based on the fact that China is still the largest developing country, and remains in the primary stage of socialism, Premier Li stressed the people-focused development philosophy, calling for improved livelihoods for people in western regions.
He urged these regions to win the battle in targeted poverty alleviation, provide more quality education and medical resources through Internet Plus, and improve employment and eldercare services.
In attendance at the meeting were Vice-Premiers Han Zheng, Sun Chunlan and Liu He, State Councilor Wang Yong, Secretary General Xiao Jie, Minister of the National Development and Reform Commission He Lifeng, and Bater, minister of the State Ethnic Affairs Commission.