Premier Li Keqiang met with Darren Woods, CEO and chairman of ExxonMobil, in Beijing on Sept 7.
The Premier said that a thriving two-way investment mode between China and the US is conducive to both parties, the stable development of the global economy, and growth in international trade. Nations around the globe should join hands to safeguard free and convenient trade as well as investment.
ExxonMobil is more than welcome to carry out large, solely invested petrochemical engineering projects. Premier Li added, it's advisable for foreign enterprises, including ExxonMobil, to seize every opportunity to cooperate with their Chinese counterparts in compliance with the rules of the market and commercial principles, laying the groundwork for a win-win partnership.
The Premier said that all the achievements China has made over the past 40 years came down to its reform and opening-up strategy. And this country will remain a stickler for the policy by means of relaxing restrictions on market entry, providing a level-playing field for both domestic and overseas enterprises, better protecting intellectual property rights, and constantly optimizing the business environment to better facilitate foreign investment.
China hopes that US enterprises, including ExxonMobil, will make an active move to expand their investment in this country, and mirror China's reform and opening-up and development to the world with an objective and fair voice.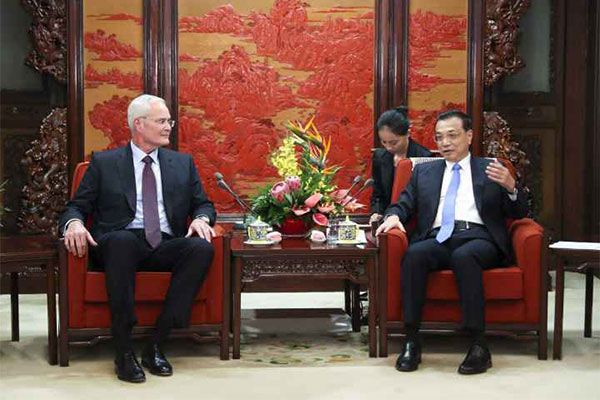 At the meeting, ExxonMobil also discussed a $10 billion exclusively funded petrochemical project in Guangdong with the Chinese side.
Darren Woods said ExxonMobil has long-term cooperative relations with China, and the company appreciates recent moves by the Chinese government in opening-up, business environment optimization and protection of intellectual property rights.
These measures will help China realize its development goals, and provide broad opportunities for ExxonMobil and other foreign enterprises, he said.
"Our development goals dovetail with China's growth plans in many sectors, and the company has confidence in related cooperative projects," he said.
ExxonMobil is willing to boost China's manufacturing with world-leading technologies, and conduct more long-term cooperation, he added.
He Lifeng, head of the National Development and Reform Commission, also attended the meeting.