Premier Li Keqiang met with Venezuelan President Nicolás Maduro, who was on a state visit to China, in Beijing on Sept 14.
Premier Li said that China-Venezuela relations have maintained a momentum of sound development.
President Xi Jinping held fruitful talks with President Maduro, and the two leaders made plans for the development of bilateral relations, the Premier added.
The Premier promised that China is willing to offer assistance for Venezuela's economic development and livelihood improvement to the best of its ability, and make joint efforts with Venezuela in opening up new prospects for bilateral relations and cooperation.
China will continue advancing economic and trade exchanges with Venezuela on the basis of equality, mutual benefits and win-win cooperation. The country encourages commercialization and sustainable cooperation, hoping that more policy support and legal protection will be provided by Venezuela, according to Premier Li.
China would also like to promote cultural exchanges and consolidate friendship between the two countries, the Premier said.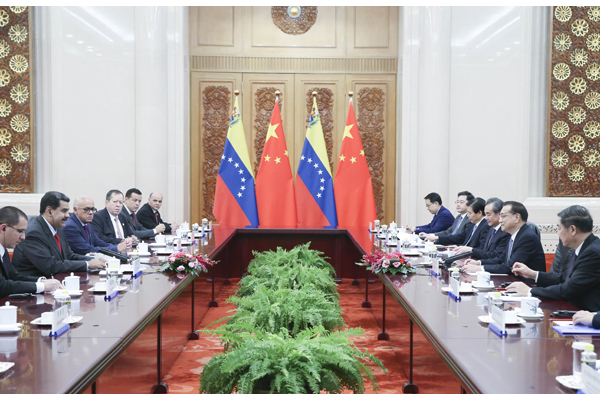 Maduro said that Venezuela-China relations set a model of cooperation between countries.
Venezuela has formulated plans for national economic recovery and growth, and Chinese enterprises are welcomed to participate in Venezuela's economic construction, he said, vowing to promote all-around cooperation with China.