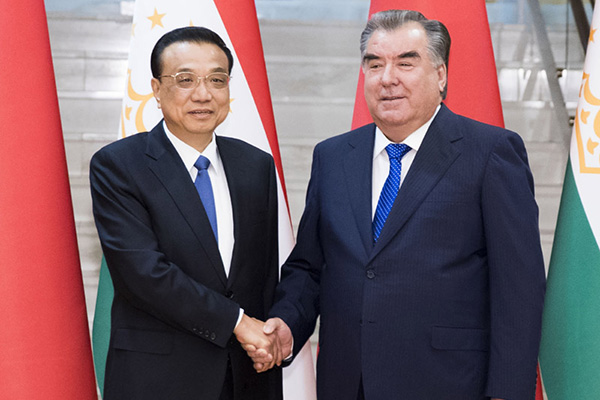 Premier Li Keqiang met with Tajik President Emomali Rahmon in Dushanbe, Tajikistan on Oct 13.
The Premier said he highly values the time-honored friendship and solid political mutual trust between China and Tajikistan. Both sides have respected and supported one another throughout. With bilateral cooperation coming into fruition, there will be broad prospects for development.
Premier Li said that China is willing to make the effort, along with Tajikistan, to make the all-around China-Tajik strategic partnership scale new heights.
Given the two economies are complementary to a great extent, the Premier added, China hopes both parties will continue to tap the potential of bilateral cooperation, establish innovative cooperation modes, and make related improvements, in a bid to facilitate the reciprocal strategy.
China encourages competent Chinese enterprises to invest in Tajikistan. In that case, China hopes Tajikistan will create a benign business environment and make improvements in its customs and transportation accordingly, the Premier said.
In the meantime, Tajikistan is more than welcome to export premium agricultural products to China.
In addition, China is willing to strengthen anti-terrorism cooperation with Tajikistan and other adjacent nations, to uphold a peaceful and stable regional environment.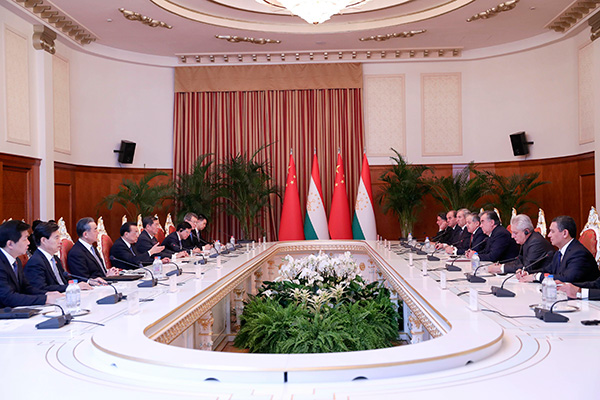 Rahmon spoke highly of Premier Li's visit, saying it will inject impetus into the development of bilateral relations and cooperation. He said his country attaches great importance to Tajikistan-China ties, and is ready to deepen their comprehensive strategic partnership.
Rahmon expressed his gratitude toward China for its support and assistance in Tajikistan's economic and social development, and he hopes both sides will expand cooperation in transportation, agriculture, energy and infrastructure facilities, as well as broaden people-to-people exchanges.
He also said the two countries could enhance communication in regional affairs, especially in anti-terror cooperation, to benefit the two peoples.