THE HAGUE — Premier Li Keqiang on Oct 16 called on Dutch enterprises to explore the Chinese market and partner with Chinese enterprises for innovation cooperation.
"The Chinese economy is going through a stage of transformation and upgrading. The growth of better quality calls for international innovation cooperation," Premier Li said at the China-Netherlands Business Forum during his official visit to the Netherlands.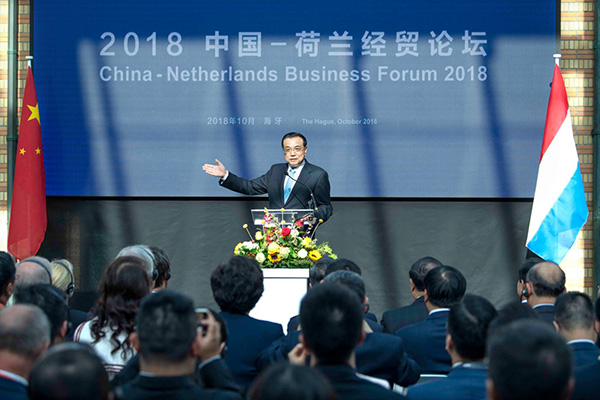 The Premier said some Dutch enterprises have demonstrated their innovative products and technologies such as high-precision medical equipment, integrated system of equipment and information system for cancer treatment, manufacturing and repair nanotechnologies for aircraft engines, and green agriculture.
These enterprises have expressed their wish to seek cooperation in China, Premier Li said, adding that Dutch enterprises, both large and small, are welcome to explore the Chinese market and find Chinese business partners.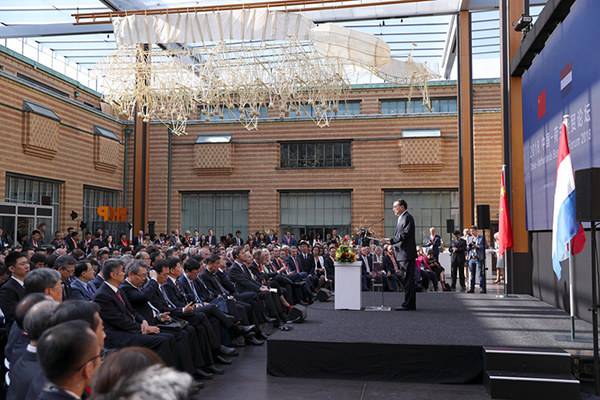 China is implementing its innovation-driven development strategy, with a boom of new growth drivers now contributing to some two thirds of the newly created employment, the Premier said.
With a population of 1.4 billion, China has a vast market. Consumption is in the process of becoming the main growth driver of the Chinese economy, which creates enormous potential for the innovative products of Dutch enterprises in China, Premier Li said.
He also encouraged Chinese enterprises to partner with the Dutch enterprises in innovation.
Premier Li's official visit to the Netherlands from Oct 14 to 16 is the second stop of his Eurasian trip from Oct 11 to 19.