"This might be one of the most advanced chips in the world currently," said an officer at the Belgium Interuniversity Microelectronics Center (IMEC). Premier Li Keqiang took the vinyl record-size chip, took off his glasses, looked at it closely, and then asked several questions.
During his visit in Belgium and attending the 12th Asia-Europe Meeting (ASEM) summit, Premier Li took time to visit IMEC in Louvain on Oct 18, accompanied by Belgium's Deputy Prime Minister and Minister for Work, Economic Affairs and Consumer Affairs Kris Peeters.
According to Luc Van Den Hove, president and CEO of IMEC, the research center tried to shorten the distance between different electric circuits through accurate photolithography technologies, which can improve communication efficiency and calculation pace. Currently, the research center has produced a kind of chip that measures only 3 nanometers — this is the highest level in the world by far.
The application of this technology will change the running pattern of the whole computer, and lay the foundation for research such as artificial intelligence. It will also bring revolutionary changes to fields such as interventional therapy of serious diseases like cancer and Parkinson's disease, automatic driving, and smart cities.
Premier Li studied the production time limit, energy efficiency, and use in people's lives of the high-accuracy nanometer chip. He also asked detailed questions.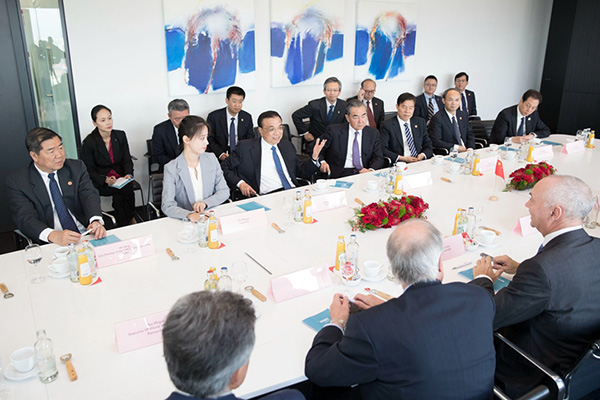 Established in 1984, the center has 4,000 researchers from about 80 countries around the world. It is a world-leading research, development and innovation center in nanometer electron and digital technology. It is one of the "3I" in global microelectronics — the other two are Intel and IBM.
"We have cooperation with many world-leading companies, including Intel, Samsung, TSMC, Qualcomm and ARM. Some Chinese companies are also our cooperation partners," a leading officer said. "We make efforts with our partners from around the world, and promote the world toward better interconnection and sustainable development."
Premier Li said that he and Belgian Prime Minister Charles Michel witnessed the signing of 14 nanometer technology cooperation agreements between companies from the two countries three years ago, during his visit to Belgium.
"Now the agreement has come to an end. Can we consider signing higher-level cooperation projects?" Premier Li asked Van Den Hove.
"We'd love to," Van Den Hove replied. "As long as it meets the demand of our Chinese partners, and in accordance with the law, we are willing to expand cooperation with Chinese partners."
"I am here to guarantee that the Chinese government will make more efforts to protect intellectual property rights, and create an environment suitable for innovation cooperation," the Premier said.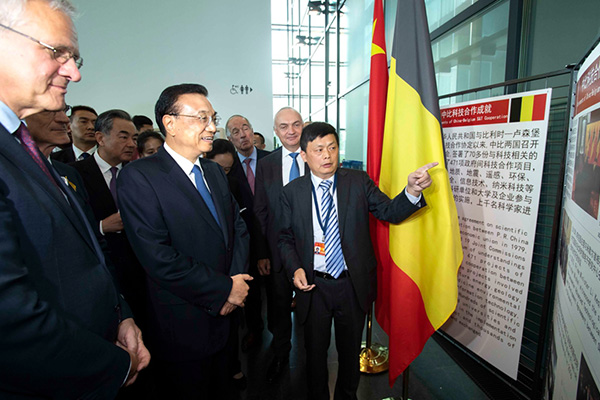 At a photo exhibition displaying China-Belgium cooperation achievements, Premier Li watched the utilization of high technologies, such as remote sensing satellites, which can be applied in tracking natural disasters and securing food safety.
Knowing that a Chinese institution's overseas innovation and entrepreneurship competition has attracted more than 100 scientists, including academicians from the European Academy of Science, to guide entry projects or join the competition, Premier Li said China has a huge market, and the country welcomes scientific forces from all over the world to participate in China's innovation development.
Premier Li said he is glad to see the positive progress in bilateral cooperation, and expects to further strengthen the cooperation.
Commercializing technology requires a huge market, and China is the world's largest market, which not only contains big business opportunities, but also will drive technology upgrades, he added.
Van Den Hove responded that is very important, and said he expects to carry out further cooperation with China.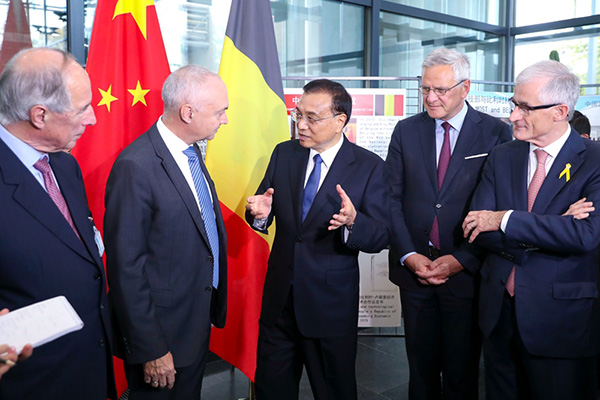 Premier Li said he expects the IMEC's technology could explore the bigger market and progress in China, and then said to Peeters that he expects more support from the Belgium government for the cooperation of enterprises from both countries.
There was no hesitation on this issue, the deputy prime minister said.