BRUSSELS — Premier Li Keqiang has called on Asian and European countries to jointly safeguard the positive momentum of the global economic recovery, stressing the importance of multilateralism, open economy, connectivity and people-to-people exchanges.
Premier Li made the remarks on Oct 19 in Brussels when addressing the 12th Asia-Europe Meeting Summit (ASEM) themed "Europe and Asia: Global Partners for Global Challenges," which brought together leaders of 53 ASEM members and international organizations.
Risks and challenges can't be overlooked as countries strive for peace and development in a world faced with uncertainties, Premier Li said.
Noting that Asia and Europe are two stabilizing forces of the world as well as two major economic blocs, Premier Li said Asian and European countries, faced with new circumstances and challenges, should rise up to their responsibilities to maintain world peace while boosting development and prosperity.
He said countries should address global challenges by enhancing cooperation and practicing multilateralism.
Premier Li said Asian and European countries must strengthen consultation and cooperation, firmly uphold the rules-based international order, the authority of the United Nations, and the purposes and principles of its charter.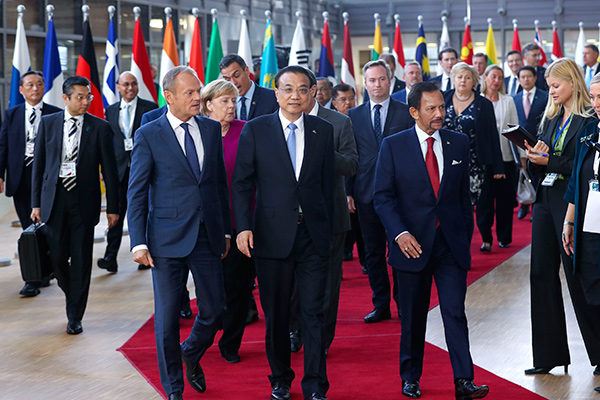 Premier Li Keqiang attends the 12th Asia-Europe Meeting (ASEM) Summit in Brussels, Belgium, Oct 19, 2018.
The Premier urged Asia and Europe to stay committed to building an open world economy, saying that the hard-won momentum of the world economic recovery still calls for adherence to open development, and promoting a more inclusive and balanced global division of labor.
The two continents should also resolutely safeguard the rules-based multilateral trading system and consolidate the foundation for economic globalization and free trade, he added.
When making appropriate adjustments and improvements to the existing rules of the World Trade Organization, Premier Li said, the basic principle of free trade should be adhered to, the interests and concerns of all sides should be fully taken into consideration. Special attention should also be paid to protecting the rights and interests of developing countries.
Efforts should be made to both promote global economic growth and prosperity and narrow the South-North gap, the Premier said.
Premier Li called for promoting connectivity of infrastructure to build networks of transportation, industries, and logistics across Asia and Europe.
Meanwhile, he said, involved countries should also enhance "soft connectivity" of systems, policies, rules and standards in order to stimulate vigor of elements such as capital, technology, services and data.
He also called for efforts to further align the China-proposed Belt and Road Initiative with development strategies of various countries to achieve shared development and prosperity.
Premier Li stressed the need to increase people-to-people exchanges to inject greater vitality into the Eurasian cooperation.
The Premier said China is still a developing country with insufficient and unbalanced development.
But he said China, with over 1.3 billion population and a huge market, has the ability and ample room for maneuver to deal with external changes.
"China surely can maintain healthy and sustainable economic growth," Premier Li said.
He said China will deepen reform across-the-board to build a just and fair market environment in which all domestic and foreign enterprises are treated equal.
"We will further open up, strengthen intellectual property rights protection, create a world-class law-based business environment," he said. "I am confident that as long as we work together through thick and thin, more benefits can be delivered to the people of Eurasia."
Delegates from other countries said Asian and European countries have become the major engine driving global economic prosperity and trade growth.
Against the backdrop of complicated and uncertain international environment, they said, all countries on the two continents should further build their consensus, work together, jointly safeguard rules-based multilateralism and free trade system, and work hard to eradicate poverty, expand opening-up, and make concerted efforts in coping with challenges such as climate change and terrorism.
The Belt and Road Initiative and the Eurasian connectivity strategy would be conducive to utilizing the regions' comparative advantages and resources, and promoting regional connectivity and trade balance, they said.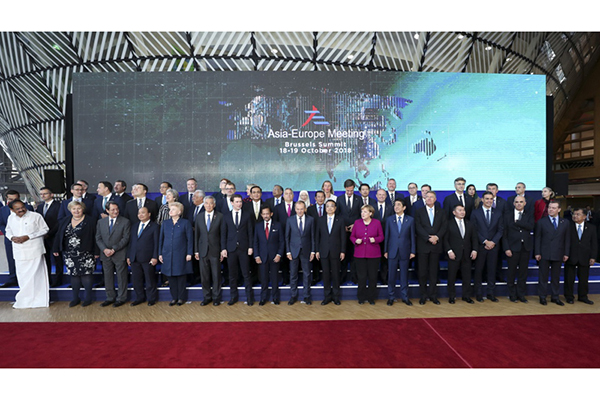 Leaders attending the 12th Asia-Europe Meeting (ASEM) Summit pose for a group photo in Brussels, Belgium, Oct 19, 2018. Premier Li Keqiang attended the summit in Brussels on Oct 19.[Photo/Xinhua]
Noting that trade is mutually beneficial and win-win in essence instead of a zero-sum game, the delegates said countries on the two continents are willing to push forward relevant free trade arrangements, which will help resist protectionism, reduce trade barriers, promote sustainable trade and economic growth, and jointly safeguard regional development, prosperity, security and stability.