Premier Li Keqiang met with a delegation from the US Congress on Nov 1 in Beijing. It was headed by Senator Lamar Alexander, and composed of members of the Senate and the House of Representatives.
Premier Li said that the China-US relationship has been maintaining its development despite twists and turns since it was established nearly 40 years ago. A healthy and stable relationship is in line with the interests of the two countries, so both sides should make joint efforts in driving it along the right track, on the basis of important consensuses reached by the two heads of state. "I hope you members of the Congress could play positive roles in this area," he added.
As the biggest developing country and the biggest developed country in the world, China and the US are at different stages of development, which are highly complementary to each other, Premier Li pointed out. As to conflicts involved in the process of economic and trade cooperation, he suggested both sides control and solve problems through dialogues and negotiations, with respect for each other's interests and concerns.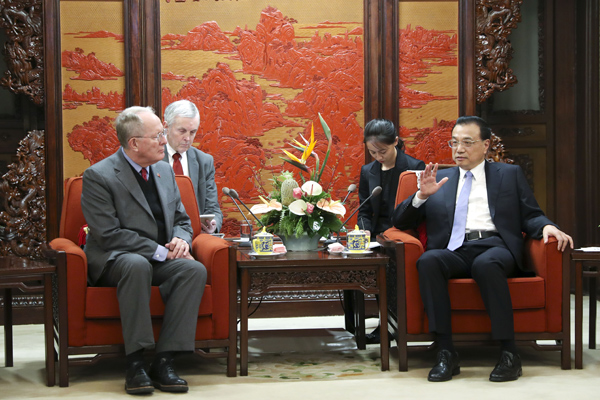 Noting that China will unswervingly deepen reform and expand opening-up, the Premier said China's development will provide more opportunities and a broader market to other countries in the world.
According to the US Congress members, China is a great country and the Chinese people are a great people. Despite competition between the two countries, they are not opponents. As common interests far outweigh the differences, common prosperity will be achieved through further cooperation.
For issues in economy and trade, the two sides should settle them through fair consultation on an equal footing, and imposing tariffs is not the right solution, they added, vowing to play a constructive role in boosting bilateral ties and enhancing mutual understanding and cooperation between the two countries.
The two sides also exchanged views on bilateral, international and regional issues of common concern.