Premier Li Keqiang and Russian Prime Minister Dmitry Medvedev co-chaired the 23rd regular prime ministers meeting in Beijing on Nov 7.
Vice-Premier Han Zheng also attended the meeting, in his role as China's chairman of the China-Russia Investment Cooperation Committee and the China-Russia Energy Cooperation Committee.
Premier Li said China and Russia are not only the closest neighbors, but also important opportunities for each other.
The comprehensive strategic partnership of coordination runs at a high level, in compliance with bilateral interests and constructive to world stability and economic recovery, he added.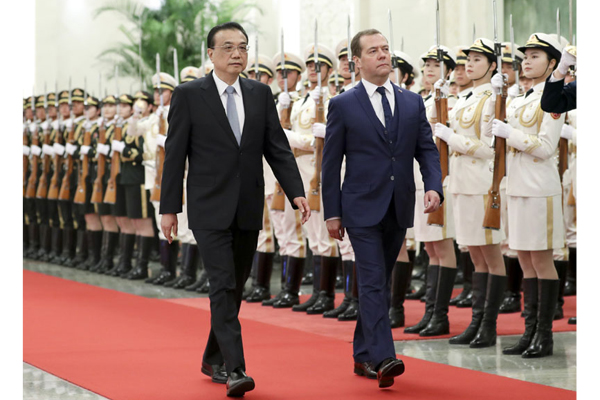 The meeting was the first since the two countries finished their government reshuffle, bearing great meaning for continuing their relations, the Premier said.
Under the meeting's framework, each committee performed well in obtaining new cooperative results. China is willing to deepen political and strategic trust with Russia, and expand comprehensive cooperation, to jointly maintain world peace and stability, Premier Li said.
Premier Li and Medvedev heard the work report from Vice-Premier Han Zheng, Vice-Premier and Chairman of the China-Russia Committee on Humanities Cooperation Sun Chunlan, and Hu Chunhua, vice-premier and chairman of the committee of China-Russia PMs' Regular Meeting and the committee of intergovernmental cooperation in Northeast China and Russia's Far East. Russian leaders, including First Deputy Prime Minister Anton Siluanov, Deputy Prime Ministers Tatyana Golikova, Yury Trutnev and Maxim Akimov, also reported on their work.
Premier Li said Sino-Russian economic and trade cooperation is growing at a fast pace, with the trade volume estimated to surpass $100 billion this year, and there is still potential waiting to be developed.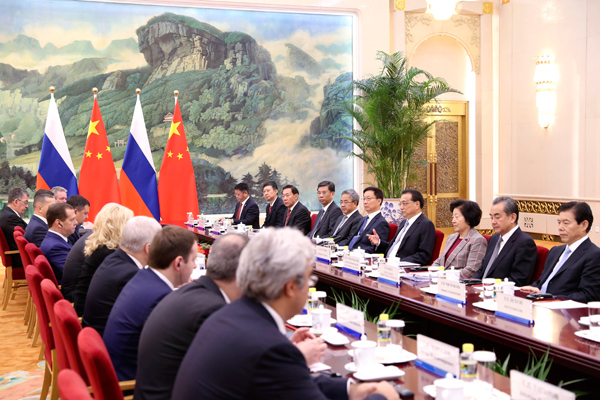 He said he hoped both sides can keep improving trade convenience and investment scale, as well as cooperation in agriculture, cross-border e-commerce, and technological and basic research areas.
Regional exchanges should be beefed up based on the year of cooperation and exchanges between local governments. Moreover, people-to-people exchanges between media, youth, tourism, healthcare and sports should also be strengthened, the Premier said.
Premier Li said China is willing to work with Russia to safeguard the fundamental principles and spirit of the World Trade Organization, uphold free trade, and advocate multilateralism.
China stands ready to combine the Belt and Road Initiative with the Eurasian Economic Union, through joint discussions and construction for shared benefits, and welcomes other parities to participate in building open platforms, the Premier said.
For his part, Medvedev said China and Russia enjoy great mutual trust, with a deepening comprehensive strategic partnership, and the presidents of the two sides also had several meetings this year.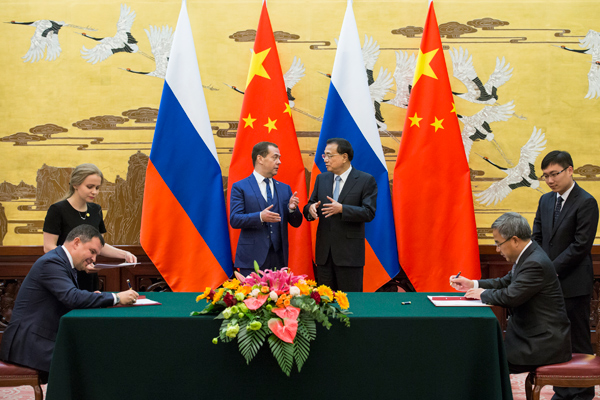 He said that Russia is willing to increase exchanges at various levels, and deepen pragmatic cooperation.
The nation will also expand trade with China, raise two-way investment, accelerate construction of an innovation investment fund, and enhance cooperation in innovation, e-commerce, agriculture, energy, nuclear energy, and transportation, he said.
The prime minister added that Russia will get all work done to ensure preparation for the China-Russia local cooperation year, set for this year and next year, in a bid to strengthen cooperation between Russia's Far East and Northeast China.
Russia, Medvedev said, will work with China to safeguard multilateralism and the free trade system with WTO at the core, oppose unilateralism and protectionism, and enhance communication on issues concerning WTO reform.
Russia will strengthen coordination and cooperation under the framework of the Shanghai Cooperation Organization and BRIC countries, he added.
The two leaders also signed the Joint Communique of the 23rd Regular Meeting between Chinese Premier and Russian Prime Minister, and witnessed the signing of several bilateral cooperation files in investment, energy, local cooperation, culture, agriculture, customs, quality inspection, and aerospace.
Before the meeting, Premier Li held a welcoming ceremony for Medvedev at the Great Hall of the People.
State Councilor and Foreign Minister Wang Yi, and Su Hui, vice-chairman of the National Committee of the Chinese People's Political Consultative Conference, also were in attendance.