Premier Li Keqiang and Russian Prime Minister Dmitry Medvedev met the press after the 23rd regular meeting at the Great Hall of People in Beijing on Nov 7.
Premier Li said the meeting with Medvedev was held in a practical and efficient way and yielded results. The uninterrupted meetings between Chinese and Russian prime ministers over the past 22 years show a high-level and stable China-Russia comprehensive strategic partnership in various fields.
This has brought benefits not only to both countries, but to peace and development of the region and the world, he added.
Premier Li said China and Russia are highly complementary in economy and there is much room to extend the all-around cooperation. The two sides have determined to continue to tap potential of the two-way trade and investment, promote the scale and level of trade and investment, and enhance integrative energy cooperation to build stable supply and demand relations.
The two leaders also decided to strengthen scientific and technological innovation and cooperation, set up China-Russia funds on sci-tech innovation, and extend cooperation in basic research and mutual openness of high technologies, Premier Li said.
The Premier said the two countries will promote local cooperation between the northeastern region of China and Russia's Far East, and strengthen cooperation in resources and agricultural products. They will also continue to increase people-to-people exchanges to consolidate public support for China-Russia relations.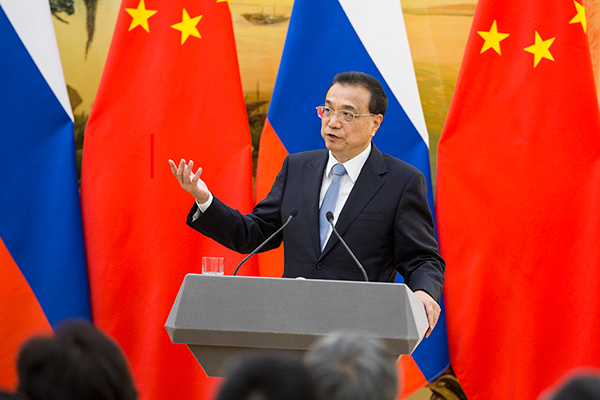 Premier Li said the two sides talked about the current international situation and agreed that economic globalization is the mainstream.
As active participants and strong supporters of the multilateral trade system, China and Russia will continue to advocate free trade and investment, and promote global and regional economic integration by upholding the principles of openness, inclusiveness and transparency.
Premier Li said the two sides will work together on the agreement on economic and trade cooperation between China and the Eurasian Economic Union, and launch negotiations on the Eurasian Economic Partnership Agreement, to lay a foundation for the comprehensive, high-level free trade and investment arrangements that are open to other economies.
Medvedev said China and Russia have seen profound development in their relations, closer cooperation in various sectors and increasing bilateral trade volume.
The two countries should continue to expand trade and investment cooperation, support collaboration between small and medium-sized enterprises of both countries, improve e-commerce and make innovations in payment settlement, and enhance cooperation in oil and natural gas projects.
Facing unilateralism and protectionism, Russia is willing to work with China to maintain the authority of the multilateral trading system, he said.
He added that Russia also hopes to enhance coordination between the Eurasian Economic Union and the Belt and Road Initiative.
Vice-Premier Han Zheng and State Councilor Wang Yi also attended the press conference.