"The world economy is at a new crossroads," Premier Li Keqiang said at the third "1+6" roundtable held with the heads of major international financial institutions on Nov 6 in Beijing.
On the topic of promoting win-win results between China and the world in an open economy, the roundtable meeting brought together World Bank President Jim Yong Kim, International Monetary Fund Managing Director Christine Lagarde, World Trade Organization Director-General Roberto Azevedo, Organization for Economic Cooperation and Development Secretary-General Angel Gurria, Financial Stability Board Chairman Mark Carney, and International Labor Organization Deputy Director-General Deborah Greenfield.
The meeting was held to release a positive signal to the international community that all parties should firmly maintain multilateralism and free trade, work together to safeguard global economic recovery and peace, stability and development of the world, and to constantly push human civilization forward, according to Premier Li.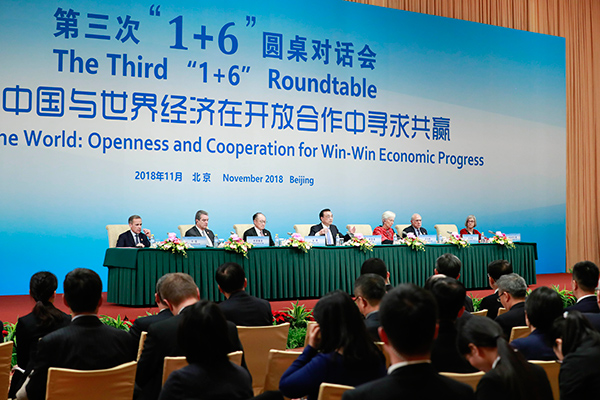 Economic recovery and challenges
The timing of convening the roundtable was significant — amid complicated global economic and financial circumstances, China had its 40th anniversary of reform and opening-up, adding profound meanings to the meeting, Premier Li said.
He welcomed the leaders to share their views on the world economy and China's reform and opening-up.
The Premier said despite the recovering trend, the world economy is still facing risks — globalization is experiencing setbacks, with rising risks of trade frictions and negative influence on international economic cooperation, which will not only impact the growth of world trade, but also shake market confidence in multilateral trade and globalization.
At the same time, the Premier said, the fluctuating global financial markets, liquidity risks, and differentiation of various economic sectors are making global growth unstable.
Tensions in world trade and the spillover effect on relatively fragile emerging markets resulting from monetary tightening of developed economies have affected market confidence and gave rise to risks of economic downturn, Lagarde said, adding that IMF has reduced expectations for world economic growth.
Azevedo said the spillover effect from trade tensions affected people's confidence in investment and development, presenting a destructive impact on world economic growth.
OECD has also cut growth forecasts for the global economy, Gurria said, owing the downgrade to protectionism. And multilateralism is the only solution, he added.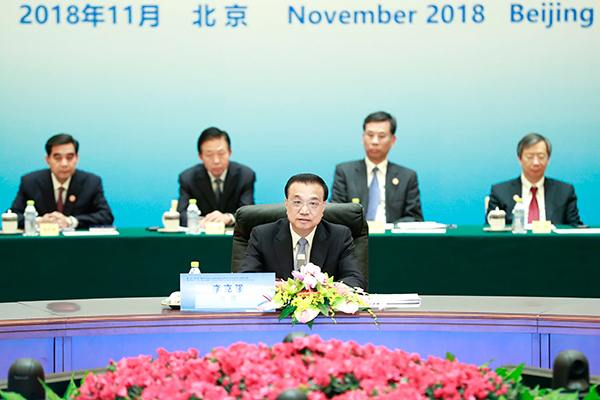 Multilateralism and free trade highlighted
"We shared the idea that growing doubts about free trade and multilateralism not only disturb the world economic recovery, but also shake people's confidence toward the future," Premier Li said at the press conference.
"Under current circumstances, all parties should stick to multilateralism and free trade, support the win-win cooperation situation and advance human civilization," he added.
The Premier said multilateralism and free trade is the only way leading to prosperity and inclusive growth, and all parties should support multilateralism, promote healthy development of globalization, and build an open world economy.
"We need to see more trade and international cooperation, which is the position we adhere to," Lagarde said.
World Bank's Kim called for strong support for free trade, citing the example of villagers in China's Guizhou province stepping out of poverty through e-commerce.
Trade is an important catalyst for economic growth and social development; common efforts should be made to tackle international challenges, and international dialogues are necessary for consolidating a multilateral system, Greenfield said.
Carney made the suggestion that all parties should seek common benefits through openness and cooperation, and it would be of great importance to build up a fairer and safer international financial system.
The results reached in world economic recovery would be offset by trade tensions, therefore multilateralism and free trade system should be safeguarded to promote economic growth, Azevedo said.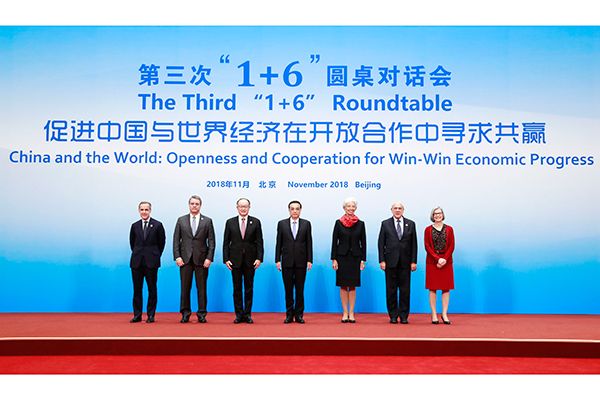 Basic principles of WTO should be safeguarded
During the free discussion at the meeting, WTO Secretary-General Roberto Azevedo asked Premier Li about the Chinese government's position on the modernization of WTO.
"The multilateral trade system with WTO at the core lays the foundation for international economic and trade development," the Premier responded. However, WTO is facing its own challenges, he added.
China agrees with improving the current system on the premise of free trade, because without free trade, fairness and fair trade will no longer exist. Therefore, basic principles such as openness, transparency, inclusiveness and nondiscrimination should not be changed, on which reforms can be carried out instead of being overturned.
He also mentioned that WTO reform must take care of the interests of each party, searching for common ground. The interests of developing members should be safeguarded to narrow the gap between the developed and underdeveloped.
Pressing matters must be resolved to re-establish the international society's confidence in WTO. Candidates for WTO dispute settlement institutions should be nailed down as soon as possible, he said.
Azevedo spoke highly of the Premier's remarks, saying China will play a key role in WTO reform. "I hope each party could continue to support the current multilateral mechanisms, especially when they are encountering headwinds," he said. Improvements should be made to adapt to new challenges, rather than destruction.
OECD Secretary-General Angel Gurria also said each party should stand steadfast in maintaining multilateral mechanisms like WTO, and deal with world trade issues under WTO's framework.
Thus, consensus was reached at the third "1+6" roundtable meeting: Joint efforts should be made to increase efficacy of the WTO dispute settlement mechanism, nail down candidates for its dispute settlement institutions, and spread benefits of free trade while enhancing multilateral mechanisms.