"The RCEP negotiation is in the critical stage. We must make persistent efforts to maintain positive momentum and try to reach an agreement next year," Premier Li Keqiang said at the second leaders' meeting on the Regional Comprehensive Economic Partnership in Singapore on Nov 14.
The RCEP is an agreement initiated by 10 ASEAN countries with China, Japan, South Korea, Australia, New Zealand and India involved (10+6). It aims to establish a free trade agreement for a unified market involving the 16 countries by cutting tariffs and non-tariff barriers.
The region included in the agreement will cover 44 percent of the global population, 40 percent of global trade volume and 30 percent of global GDP, making it the world's largest free trade zone.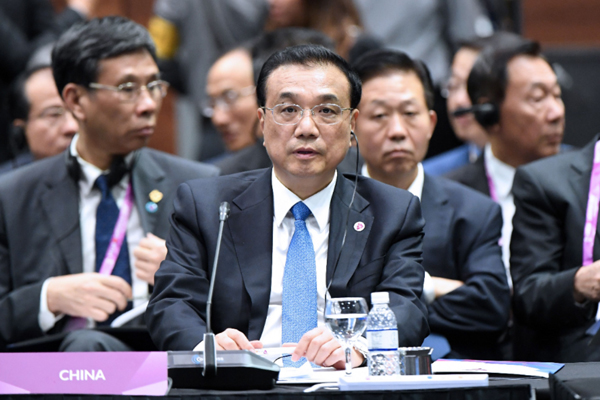 The RCEP negotiation, initiated in 2012, started to speed up in 2017.
At present, the 16 countries have completed consultations in seven chapters, nearly 80 percent of the negotiation has been completed and breakthroughs have also been made in some rule-based chapters.
Participating countries are more motivated to complete the RCEP negotiation to face the emerging threat to a rule-based trading system — including growing protectionism — and the RCEP results will send a signal to the region to support an open, inclusive and rule-based trading system according to the participating countries ministers' meeting in October.
RCEP is a higher level of free trade agreement based on WTO rules, and with trade protectionism and unilateralism on the rise, the agreement will send positive signals to the rest of the world when completed, Premier Li said at the meeting on Nov 14.
He called on all parties to enhance their sense of urgency to complete negotiations and maximize openness while respecting all parties.
RCEP members have different development levels and interests, and are also restrained by legal and political factors at home, so should seek truth from facts and respect all member countries, he said.
But they must have a long-term vision, i.e. promoting liberalization and facilitation in trade and investment, the Premier said, adding China is willing to negotiate with relevant parties in a pragmatic and flexible manner, and achieve a balanced result.
The Premier also suggested differences in the negotiations be solved step-by-step.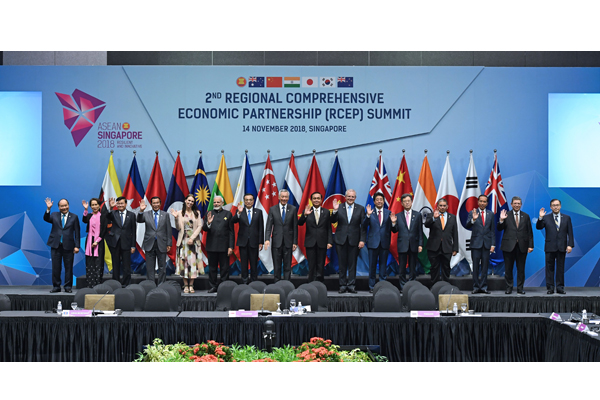 "Rome was not built in a day, but in the current situation, the RCEP agreement will be a historic one if it is reached, "the Premier said. "For those agreements that only a few members support and are difficult to reach a consensus, they can be put on hold for a while and be solved through further review."
He also stressed participating countries can speed up the settlement of achievements that have been made so the people of the region can benefit as soon as possible.
Premier Li's speech received approval from leaders of participating countries.
"We recognize unfavorable factors in the current global economy have made the completion of RCEP negotiations more urgent and important. In view of this, we collectively commit to complete RCEP negotiations as soon as possible to promote an open, inclusive and rules-based trading system, showing the world trade can benefit everyone," the joint statement released after the meeting said.
The statement also declared a modern, comprehensive, high-level, mutually beneficial RCEP agreement will be completed in 2019.