Facing a complicated international situation, Premier Li Keqiang called on all sides to take practical measures to maintain rule-based multilateralism and free trade, and offer stable expectations and a free and law-based environment to the market.
This will be conducive to regional development, peace and stability, he said.
He was speaking at the 21st ASEAN-China, Japan and Republic of Korea (10+3) leaders' meeting, which was held on Nov 15 in Singapore.
Premier Li proposed speeding up talks on the Regional Comprehensive Economic Partnership (RCEP) and the trilateral free trade agreement (FTA) between China, Japan and South Korea.
He also proposed promoting regional economic integration and working toward an East Asia Economic Community.
During his visit in Singapore, Premier Li witnessed the upgrading of the China-Singapore free trade agreement, announced that an upgraded China-ASEAN FTA went into effect, and called for a strong 'finishing kick' in the talks on RCEP.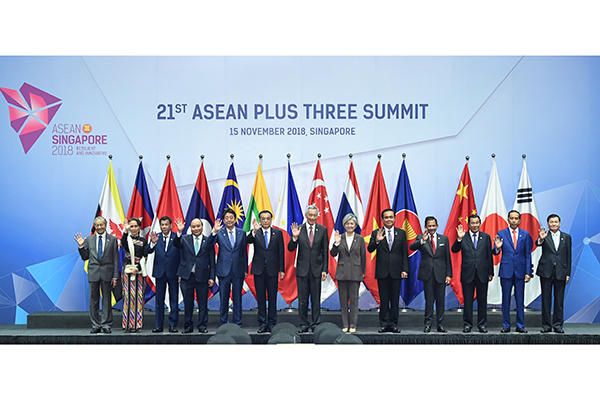 Many leaders responded positively to Premier Li's proposals. Japanese Prime Minister Shinzo Abe said that against the backdrop of rising global protectionism, Japan is willing to make a contribution to an early completion of RCEP talks.
ROK President Moon Jae-in called for all sides to work together to give full play to the central role of 10+3 cooperation, and build an East Asian community.
Indonesian President Joko Widodo expressed concerns about rising protectionism and de-globalization. Vietnamese Prime Minister Nguyen Xuan Phuc suggested taking the initiative to implement a multilateral free trading system and restrict protectionism.
Brunei head of state Sultan Haji Hassanal Bolkiah urged upholding the multilateral free trading system and speeding up RCEP talks and integration, for all economies have benefited from free trade.
The 13 countries own one-third of the world population and one-fourth of the world trade volume, said Philippine President Rodrigo Duterte, who called for all parties to work together to tackle protectionism and build an efficient multilateral trading system.
"Our cooperation can also promote regional trade and investment, reduce trade barriers and benefit all countries concerned," he added.
Singaporean Prime Minister Lee Hsien Loong said a top priority of the future 10+3 cooperation would be strengthening multilateralism.
He said free trade is a global consensus, and ASEAN and China, Japan and South Korea should work together.
He also hoped the 13 country members will push ahead with multilateralism and maintain the multilateral trading system to benefit all parties.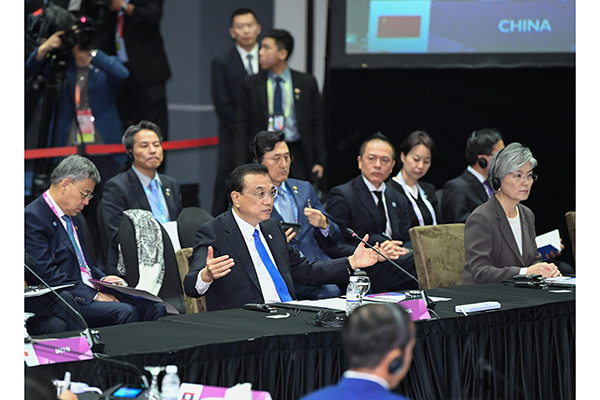 Premier Li said economic integration in East Asia is conducive not only to maintaining rule-based free trade, but to bolstering development in all the countries concerned.
He suggested all parties work closely through the economic and trade ministers' meeting to study the vision and route of the East Asia Economic Community and turn the concept into actions.