Premier Li Keqiang held the fourth regular meeting with his Kazakh counterpart Bakytzhan Sagintayev in Beijing on Nov 22.
Premier Li said China and Kazakhstan are good neighbors with sincere mutual trust, and comprehensive strategic partners with win-win cooperation, as he recalled the successful meeting between President Xi Jinping and Kazakh President Nursultan Nazarbayev at the Shanghai Cooperation Organization summit in Qingdao in June.
The two nations keep close high-level exchanges and solid political mutual trust, with good results achieved in production capacity cooperation, he said.
China, the Premier said, is willing to connect its Belt and Road Initiative with Kazakhstan's development strategies, and turn high-level mutual trust and cooperation willingness into practical results, to benefit the people from both sides.
Premier Li pointed out China is willing to continue to strengthen bilateral relations and cooperation in various fields with Kazakhstan such as production capacity, investment and the digital economy. China is willing to strengthen cooperation with Kazakhstan in energy and other new industries.
Premier Li urged the signing of the new investment protection agreement to enhance pragmatic cooperation from a legal perspective.
China is also willing to strengthen cooperation with Kazakhstan in culture, youth and tourism, Premier Li said, calling on both countries to guard multilateralism and the free trade system so as to facilitate peace, stability and development of the region.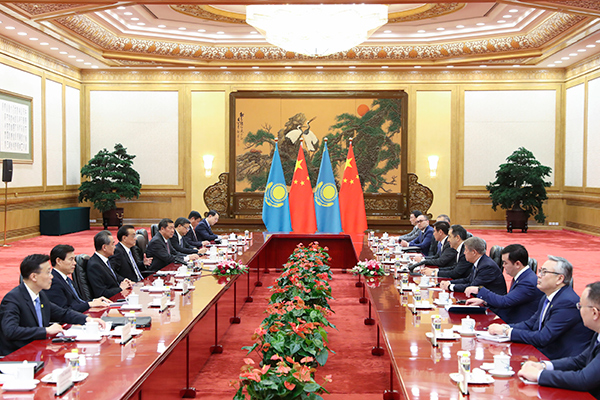 Sagintayev said that the comprehensive strategic partnership between Kazakhstan and China is showing strong momentum, with frequent high-level visits and strong political mutual trust.
He said Kazakhstan is ready to align its Nurly Zhol (Bright Path) economic program with the China-proposed Belt and Road Initiative, and promote bilateral relations to a higher level through deeper cooperation in trade, investment, capacity, agriculture and energy, as well as enhanced people-to-people exchanges.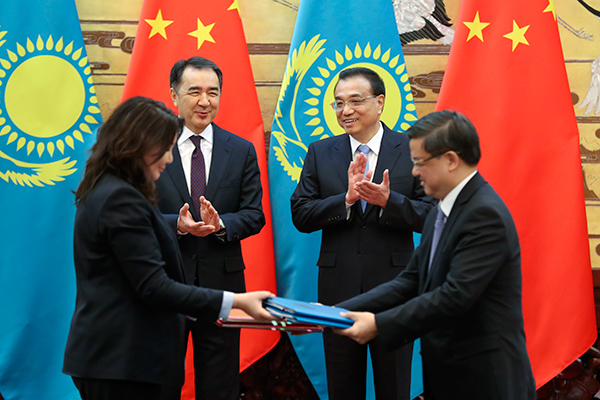 The two prime ministers witnessed the signing of cooperative documents between the two sides after the meeting.
State Councilor and Foreign Minister Wang Yi also attended the activity.