Premier Li Keqiang met with visiting German President Frank-Walter Steinmeier at the Great Hall of the People in Beijing on Dec 10.
As major economies in the world, Premier Li said, China and Germany are important partners. With the results of the fifth round of intergovernmental consultations being gradually put in place, the Chinese side is willing to promote bilateral ties on the basis of mutual respect and equal cooperation, with an aim to achieve mutual benefit and a win-win situation, which is in favor of both countries, Central Europe and the whole world.
China is opening wider to the world by implementing a series of new measures, from which Germany's automobile, chemical and financial enterprises will become the first to benefit, according to the Premier. He said he hopes more German companies will invest in China, while Chinese enterprises could enjoy an equal environment in Germany.
"We are ready to expand people-to-people exchanges with Germany to stabilize the public opinion foundation of bilateral ties," the Premier added.
China and Germany share a wide range of common interests and both are committed to maintaining multilateralism and safeguarding rules-based international order, the Premier said.
Global affairs should be resolved through negotiations by all parties involved and efforts should be made to motivate global development vitality and jointly promote economic development and social progress, Premier Li said.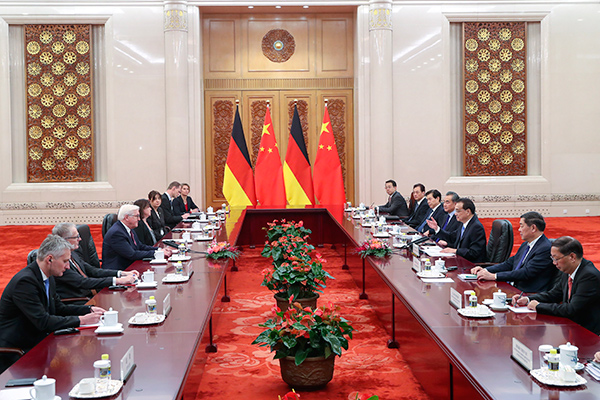 Steinmeier said this visit made him further experience the tremendous vitality of China's economic development and the increasing people-to-people exchanges between the two nations.
Germany has benefited from China's reform and opening-up in past decades, especially economic and trade relations between the two sides that witnessed rapid development, he added.
Germany stands ready to further expand the scale of trade between the two countries, increase investment in China, strengthen bilateral dialogue, and safeguard free trade and current international order with China, the president said.
State Councilor Wang Yi also attended the meeting.