Premier Li Keqiang on Jan 4 chaired a symposium at the China Banking and Insurance Regulatory Commission during an inspection of the Bank of China, the Industrial and Commercial Bank of China, and the China Construction Bank.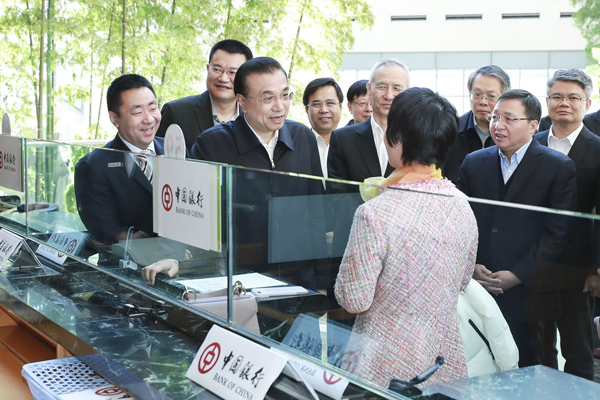 At the banks Premier Li learned about loans provided for small and micro-sized enterprises, including their operation scopes, costs, and the implementation of preferential policies.
The Premier encouraged the use of innovative applications like Internet Plus, increases in loan quotas, and cost reductions to help enterprises with financing.
Small and micro-sized enterprises have called for more inclusive finance to support their development. Being a significant national undertaking, inclusive finance boasts great potential, conducive to the development of the country and well-being of the people, Premier Li said.
State-owned banks, the Premier added, should spearhead inclusive financial services for privately owned and small and micro-sized enterprises by taking inspiration from their international counterparts.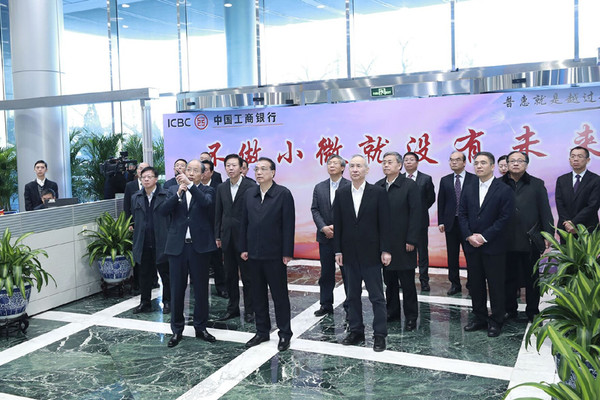 At the symposium Premier Li praised the achievements of financial industry staff. Against the backdrop of a complicated international situation, the implementation of moderate monetary policies, targeted cuts to required reserve ratios, and a string of targeted measures, had brought remarkable success and stabilized micro-leverage ratios.
With a new wave of economic pressure coming to the fore along with other challenges, Premier Li called for a steady approach to implementing inclusive finance, under the guidance of coherent and stable macro-financial policies.
Adjustments for macro-financial policies should be increased, with inclusive and structural tax cuts widely applied and financial adjusting tools like reserve-ratio reductions properly employed, the Premier said.
Support for the real economy, particularly privately owned and small and micro-sized enterprises should be strengthened, he said.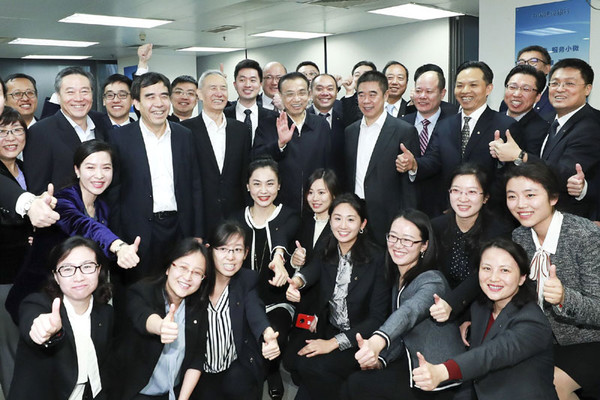 To serve the real economy, Premier Li said, the finance industry should adapt to the State's needs to stabilize the economy and employment. Only with a strong economy can finance develop smoothly.
Monetary policy should be moderate, with easing or tightening applied only where appropriate, while optimizing credit structures, the Premier said.
State-owned banks should take the lead in providing loans to small and micro-sized enterprises and help more developed companies undergoing temporary trouble, while loans should not be broken arbitrarily and neither should loans be linked with deposits, he said.
Direct financing should be encouraged to encourage the healthy development of the capital market, the Premier said.
Additionally balance must be found between serving the real economy and preventing risks, he said.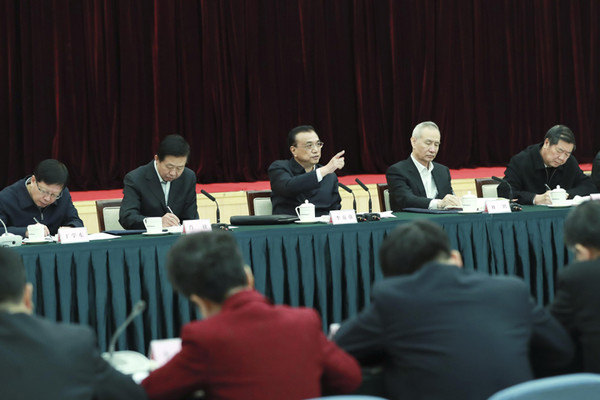 The Premier said that policies supporting inclusive finance should be established, and assessment of banks lending to small and micro enterprises should be improved, while establishing an incentive mechanism for banks to develop inclusive finance.
Finance policies should also coordinate with other macro policies, and further efforts should be made to step up effective investment, domestic consumption and financial services for the real economy.
Vice-Premier Liu He, State Councilor Xiao Jie, and He Lifeng, head of the National Development and Reform Commission were in attendance.