Premier Li Keqiang met with Tesla CEO, Elon Musk, in Beijing on Jan 9. It was the first foreign activity of the Premier in 2019.
Premier Li congratulated Tesla on the groundbreaking of a car manufacturing plant in Shanghai, saying it was the first wholly foreign-invested project in the country, after foreign equity restrictions were lifted in China in new-energy vehicles.
The Premier also expressed his hope that Tesla would become a participant in China's reform and opening-up and help promote the stable development of China-US relations.
The 50 billion yuan ($7.3 billion) plant is Tesla's first factory outside the United States, and the largest ever production project wholly owned by foreign capital in Shanghai.
Once completed, the plant is expected to have a production capacity of 500,000 vehicles per year.
"The speed of China's development and work efficiency are very impressive, and it is hard to imagine finishing the process of setting up a vehicle factory in such a short time," Musk said.
"Tesla will try its best to build its Shanghai factory into one of the best in the world," he added.
Musk said the Shanghai plant will use intelligent systems to enhance interconnectivity, and the cars produced will be among the highest level in the world.
"What expectations do you have for the Chinese government?" Premier Li asked him.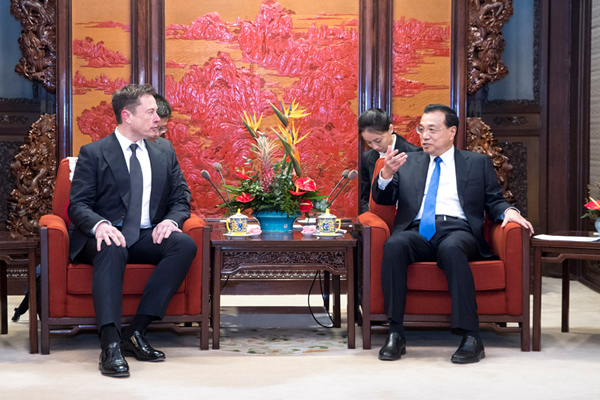 "I'd like to make the factory in Shanghai a global example," Musk said, and expressed his love for China.
Musk also told the Premier that Tesla will localize its products on the basis of the Chinese market, and is confident of success.
"Your idea is similar to Apple founder Steve Jobs, who was inspired by the oriental Zen culture before optimizing the interface of iPhone." Premier Li said, adding that "Culture and art are interlinked with science and technology."
Premier Li then took a look at three models of Tesla's new-energy vehicles outside Ziguangge in Beijing at Musk's invitation.
"Where is the battery, and how much does it account for the weight of the car? Can it be further reduced? Is the car software developed independently and can it be connected online with the manufacturing plant?" Premier Li asked Musk.
When he discovered that a car took up too much space while opening its doors automatically, Premier Li suggested that Musk could make further improvements, given the size of China's parking spaces.
"Although China has a huge market, its land in cities is limited, so the parking spaces are compact," the Premier said.
"We will make further improvements; thanks for your suggestion," Musk said.
"China will continue to be a hot spot for foreign investment for a long time, and we welcome companies from all over the world to invest in China," Premier Li said,
"I hope that Tesla will seize the opportunity to make the Shanghai factory the most advanced factory in the world," the Premier said.