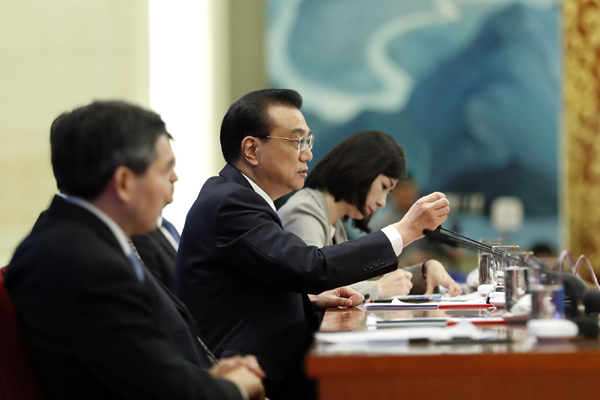 The word "market" was mentioned 29 times by Premier Li Keqiang at a news conference on March 15, conveying a clear signal that the central government will defend the market's decisive role in resource allocation.
In carrying out reform, the government must keep the market in mind. Its job is not to direct what the market should or should not do, but to do its best to energize all market players, the Premier said.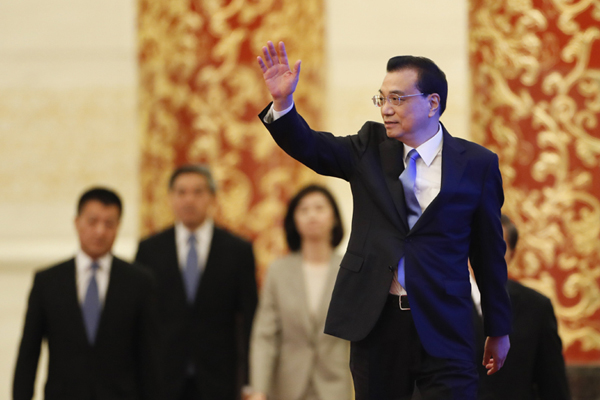 To disentangle the market
"Are China's economic problems bigger than previously thought? And if the economic slowdown doesn't stop, would China consider taking more aggressive measures?" A reporter from Reuters asked.
In the Government Work Report delivered on March 5, GDP increase is targeted at 6 to 6.5 percent. Actually, both the World Bank and the International Monetary Fund have downgraded world growth expectations in 2019.
"It is true that China's economy has encountered new downward pressure against a larger backdrop of slower global economic growth," the Premier said. "We have adjusted downward, as appropriate, our projected economic growth target for 2019, and set it at a target range. This is compatible with the GDP growth rate we achieved last year. It is also consistent with our determination to prevent major economic indicators from sliding out of the proper range. In this way, we have sent a message of stability to the market. "
China must take strong measures to cope with the current downward economic pressure, he stressed. One possible option is to resort to quantitative easing, including excessive money supply and a much higher deficit-to-GDP ratio, flooding the economy with liquidity. Such an indiscriminate and expedient approach might work in the short run, but also may lead to future problems. Hence, it is not a viable option, Premier Li said.
"Our choice is to energize market players to counter the downward pressure," the Premier said. "China now has over 100 million market entities. When their vitality is fully unleashed, the energies that could be created would be incalculable." he said.
The government should keep policies stable and ensure their continuity. "We will continue to cut taxes and fees, streamline administration, foster new drivers of growth, broaden market access and level the playing field for all market players," the Premier said.
In this way, curbs on the market will be lifted, companies will enjoy more development space and people's concerns can be resolved.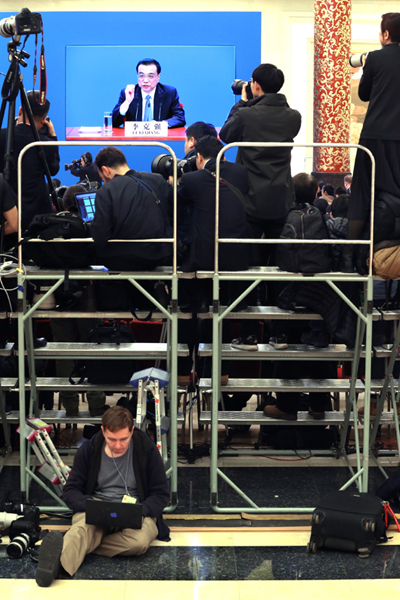 To keep policies trustworthy
"China is to cut value-added tax rates starting 1 April, and the social insurance contribution rate on 1 May, and the policy will reach all market players," Premier Li said at the news conference.
The Government Work Report is widely hailed as it vows to deepen VAT reform and reduce the burdens of social insurance on enterprises, whose extent is unprecedented.
Responding to a the question raised by a reporter from Caixin, Premier Li said China has replaced a business tax with a value-added tax in the past several years, and one trillion yuan in taxes and fees were cut on an average annual basis.
This year China will implement larger-scale tax and fee cuts. "It is an important measure for countering the downward pressure," the Premier said.
The same rules will be enforced and companies under all types of ownership will stand to benefit as equals, he stressed. "We did thorough calculations and full preparation to ensure taxes levied on companies will only come down instead of going up," the Premier said.
Moreover, to ensure that government spending in key areas related to people's lives and in fighting the three critical battles will increase, the government should tighten its belt and cut back on its general expenditures.
At the same time, certain State-owned financial institutions and enterprises directly under the central government will be asked to turn in a larger share of their profits to the State coffers. The central government also will take back those fiscal funds that have long stayed unused. Local governments also need to do their homework and contribute, he said.
The Premier said relevant departments and governments at all levels must fully deliver those policies and measures. There must be no lip service.
"We will let market players test their actual effects and there must be no arbitrary charges levied in disguised forms. Our end goal is to deliver concrete benefits to companies and market entities," he said.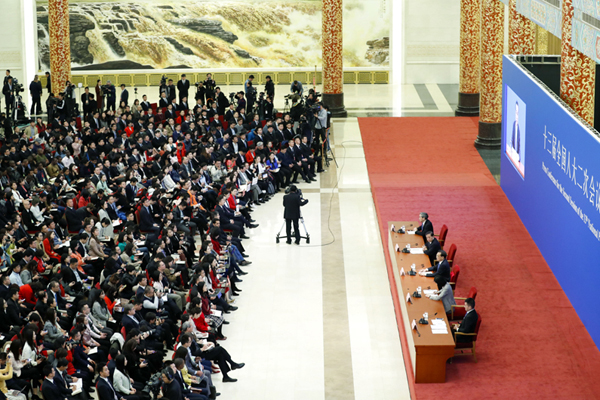 Better and fair business environment
To lower the operation cost of enterprises and cut institutional cost always tops the Premier's work list.
While answering a question on ways to accelerate reform and optimize the business environment, Premier Li said the government should stick to market-oriented and law-based reform, and unleash reform dividends through concrete measures.
A good business environment could empower creativity in society and allow the market to play a bigger role, he said.
In doing so, the Premier emphasized efforts in administration streamlining, fair market access, and transparent oversight.
Tax reduction, administration streamlining, and fair supervision are key measures for the country to tackle the economic downturn, Premier Li added.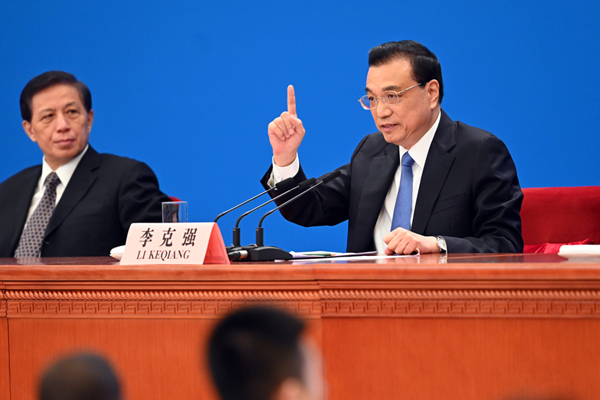 To lower financing cost of small businesses
At the news conference, Premier Li pledged that the government will cut another one percentage point in financing cost for small enterprises compared to last year.
Lauded by the press, the Premier also said that more measures will be rolled out to cancel toll gates among provinces and reduce network charges.
These measures are intended to remove institutional barriers to unleash consumption potential, and stimulate market vitality and creativity, he said.
"We will get the work done with a long-term view to maintain the upward trend of the Chinese economy in the long run," Premier Li said, adding that China will remain as a stabilizing anchor of the world economy.